Solar Systems Consultancy
With more than 33 years experience in designing, specifying, installing, servicing and upgrading a whole range of current and obsolete solar systems, Solazone is well-placed to offer advice, assist with designing and specifying solar systems that work, and are cost effective.
Whether it be a system for heating a pool, powering a house or factory, ventilating a sub-floor area, or combining evacuated tubes to heat water, assist the central heating, and to heat the pool, we have usually experienced it before.
Consultancy rates are reasonable, and are charged by the project, or by the hour.
We liaise with the suppliers and the installers to ensure that the finished product works as well as it is designed to do, and gives a long and reliable service life.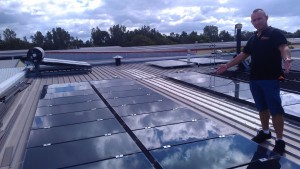 We will work on projects in most parts of Australia, the Philippines, India, Singapore and other parts of Asia.
Call us with details of your project, and let us see if we can assist you.
To inquire now, or for more details: