Fusion Power System with Aquion Aspen batteries

Fusion Power Systems, an Aquion Authorized Distributor in Australia, has unveiled the Titan SmartStorage, a new integrated energy storage system with Aquion's Aspen batteries inside.   
The Titan is:
Fully integrated
A complete "plug and play" system
Designed for residential use in grid-tied and off-grid applications
Modular for any residential system requirements
Titan SmartStorage provides energy storage that outperforms traditional battery systems and is ideal for off-grid applications, solar self-consumption, and storing solar energy for nighttime use.
The systems are modular and scalable for maximum flexibility. Fusion energy storage systems are free of toxic chemicals, 100% recyclable, noncombustible, and completely fire-safe.
Introducing the first safe and sustainable deep cycle battery.
The unique Aqueous Hybrid Ion (AHI™) battery is made from abundant, nontoxic materials.   The deep cycle battery technology contains no heavy metals or toxic chemicals and is non-flammable and non-explosive, resulting in the cleanest and safest batteries for your home or business.

Aspen batteries are the first and only in the world to be Cradle to Cradle Certified™, an esteemed quality mark for products made from sustainable materials and manufacturing processes.
The chemistry is composed of a saltwater electrolyte, manganese oxide cathode, carbon titanium phosphate composite anode, and synthetic cotton separator. The battery utilizes non-corrosive intercalation reactions at the anode and cathode. See how we compare to lithium ion and lead acid.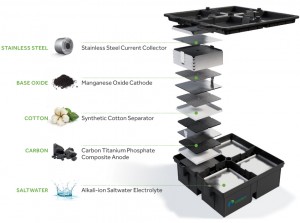 Available in 48-volt and 24-volt models, Aspen home batteries are modular building blocks that can be configured for a wide range of battery bank sizes.
Ask here – to get a quote for full installation.