Imeon three phase hybrid inverter.
The all-in-one smart grid 3 phase hybrid inverter.
Rated at 9 kw continuous, and 12 kw surge for 3 seconds.  Powerful and effective.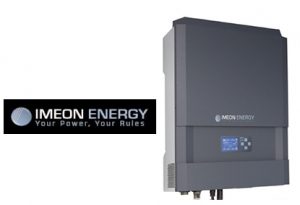 IMEON ENERGY designed a revolutionary Smart Grid inverter : IMEON.   This intelligent inverter provides an answer to the intermittency and fluctuation of solar energy by managing multiple sources (Solar/Batteries/Grid/Wind) all at once.   Over the past several years, the price of electricity from the grid has been rising while the cost of solar panels continues to fall.   By increasing the overall efficiency of solar installations with smart storage management, IMEON generates a more competitive solar kWh than that of the public grid.   IMEON is able to optimally integrate solar energy to existing infrastructures by relieving the public grid during solar production peaks (battery charging) and supporting the grid during evening consumption peaks (battery discharge).   The IMEON solutions renders solar electricity economically viable and accessible to all.   It's the logical choice.
Combining many functions essential to renewable energy systems (on-grid inverter, off-grid inverter, charger, router, source switch), we designed and created the most intelligent and versatile renewable energy production management inverter on the market today.         (IMEON does not require complex configuration but adapts its own operation by analysing real time production and consumption in real time.    IMEON uses and directs energy in an intelligent manner to ensure optimum performance.   "Grid Optimised Storage" reduces the storage capacity requirements and significantly increases battery/system life-span.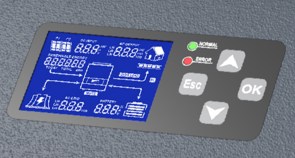 Innovative Phase Coupling – With up to 9 kw Solar input, the inverter can deliver up to 9 kw output by utilising Grid, Solar and Battery power.
UPS Mode – Continued power during loss of grid applications.
Ideal for Hybrid or Off-Grid applications.
10 Year Warranty – Highest quality manufacturing gives complete piece of mind
Unique 3 Phase Hybrid Inverter – All-in-one inverter lowers your system costs
Intelligent Battery Management – Compatible with all battery technologies including Lithium, Gel, AGM and Aquion
Fast and Simple Installation – Plug and play installation
Light weight
Imeon Inverter information Flyer here: 
Order now, or ask a question:
Queensland:    (07) 5448 8304      qld at solazone.com.au
Victoria:            (03) 9808 7337      vic at solazone.com.au
or use this form: