LG Chem Batteries
New RESU Batteries:
Optimized Solution for Energy Saving & High-quality PowerEnergy Storage System(ESS) stores electric energy and utilize them for later consumption. It is purposed to improve energy efficiency, by enhancing the quality of renewable energy that results stabilization of power supply system. LG Chem provides most optimal energy solution for the users using our state-of-the-art energy storage system with a long lifespan and a top-notch quality.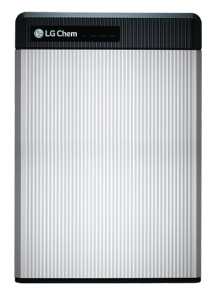 The RESU system is a lithium-ion battery pack & BMS, manufactured by LG Chem in South Korea.
The battery is NMC chemistry, and is available as a 3.2. 6.4 kWh unit, with the possibility of expansion to 9.6 kWh & 12.8 kWh.
The battery is marketed as high energy density (144 Wh/L) and long life (60% SOH after >6,000 cycles @ 90% DOD).
LG Chem is one of the largest lithium-ion battery manufacturers globally, and the RESU is an early market leader for lithium-ion batteries in RAPS and grid-connect systems.
| | |
| --- | --- |
| Battery Name | LG Chem RESU |
| Technology Class | Li-ion NMC |
| Nominal Voltage | 51.8V |
| Rated Capacity (@ 100% DOD) | 6.4 kWh |
| Recommended DOD | 90% |
| Weight | 60 kg |
| Size | 44 L |
A single expansion pack was added to the main unit for this trial, to increase nominal capacity to 9.6 kWh.
The battery bank is connected to an SMA Sunny Island inverter that will charge/discharge the batteries.
LG Chem's Energy Solutions website can be accessed via the following link:
http://www.lgchem.com/global/small-battery/it-device-battery/product-detail-PDEA0001
Considering LG as part of your Renewable Energy installation?
Order now, or ask a question:
Queensland:    (07) 5448 8304      qld at solazone.com.au
Victoria:            (03) 9808 7337      vic at solazone.com.au
or use this form: