LG Solar Panels
Are you ready to go the LG way?
If you are looking for highly efficient, best in quality and long lasting solar panels, then stop looking for other options and go the LG way.
LG has been manufacturing electrical goods since 1958 and provides the most efficient, premium solar panels at fair prices and strongest warranties.

LG solar panels are manufactured in fully automated facilities at Gumi, South Korea.
In Australia, each unit is available with a 12-year warranty in parts and labour, along with a 25-year performance warranty.
LG mono X Solar Panels – 300 watt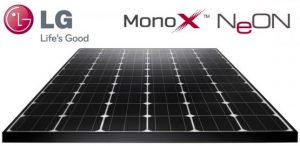 Whilst most brands of solar panel are still around 250w or 260w each, LG's panels can produce up to 320w – which means that not only are far less materials, energy and transport required to make the solar panels, they also take up far less space on your roof.
This means that you can install a larger system using the same number of panels, or use less roof area overall to achieve your desired system size. This is particularly useful if you want to free up roof space to add more panels in the future.
LG's solar panels come with a full 25 year performance guarantee.
LG mono Neon 2 Solar Panels – 330 watt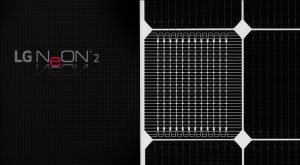 LG NeON 2 390W 72 cells have been the award winning CELLO Technology by replacing 3 busbars in each cell with 12 thin wires to enhance power output. During the Intersolar Industry Event in Germany, the technology was recognised and was awarded the 2015 Photovoltaic Innovation Award. LG NeON 2 Cell produces energy from both the front as well as the back, this allows absorption from behind the panel which increases the efficiency and electricity output.
LG Solar panel absorbs vast energy from the sun and converts it to electricity, the Direct Current flows down to the Victron Inverters before it is stored in lithium batteries. Its Voltage Vmpp is 39.8V and MPP Current ImPP of 9.81A. Solar Panels are stringed together in wire with maximum power of each string governed by the lowest performing panel. The LG NeON 2 Solar Panel is built in quality with high efficiency @ 18.8, to endure many temperature variations.
LG NeON 2 panels have been designed to have great visual appearance, their black cells, black frame and thinner wires give an aesthetically uniform black appearance. LG Solar Panels are great performance under low light performance with having their own cell manufacturing at low tolerances.    LG NeON 2  deliver higher output when the temperature rises with an improved -0.36%/˚C temperature co-efficient from the previous models, despite other panels that tend to lose power as the panel gets hotter. LG Solar Panels uses anti-reflective coatings on the glass and on the cell surface to ensure more light is absorbed and not reflected out.
LG Electronics has been doing solar research for over 30 years, and they began producing modules in 2009.
They also apply vertical integration to ensure control over every step of producing their modules, from sourcing of silicone, and manufacturing cells and modules. Since LG applies stringent measures in building their panels, they follow over 500 Quality Control processes throughout their production stages.
LG widely distributes their products in over 100 offices, worldwide. Their top selling locations include Australia, New Zealand, India, Japan and China.    Each mainland city in Australia has an LG office, and Sydney is home to the company's Solar Group.
They also began distributing panels in 2011 with over 80MW capacity to date.    Around 320,000 panels have already been sold all throughout Australia, with zero rates of warranty returns.    This is quite telling of LG's quality of modules.    So far, they've accepted only two panels on goodwill due to poor installation practices.
As LG Electronics continues to bring solar panels in Australia, each module needs to pass the International Electrotechnical Commission or IEC.    With their initiative to meet and possible exceed national standards, LG implements intensive tests in their laboratory certified by TUV, UL, IEC and Inntek.    They also ensure world-class quality by obtaining expert certifications.
You can rely on LG's panel efficiency
Today, LG offers the Neon 2 Solar Module range with excellent performance, whether your property is situated under minimal or peak sunlight exposure.
There's also the new, 320W unit which has roof-optimizing qualities as they produce more electricity than most poly and mono-crystalline panels. Choosing LG's Neon 2 panels enables you to save more on electricity bills and installation costs. They're also available in much sleeker and more stylish designs.
The latest Neon range is also multi-awarded as it reaped the Intersolar Award for Innovation in Europe during 2013, 2015 and 2016. It also gained the Top Brand Australia Award this year. Even third-party, quality reviewers such as Choice Australia, found how LG Panels prove to be the most efficient among 15 other products by which they were compared with.
Order now, or ask a question:
Queensland:    (07) 5448 8304      qld at solazone.com.au
Victoria:            (03) 9808 7337      vic at solazone.com.au
or use this form: