LG Solar Panels & Lithium Battery Storage

LG solar panels are manufactured in fully automated facilities at Gumi, South Korea.
In Australia, each unit is available with a 12-year warranty in parts and labour, along with a 25-year performance warranty.
A look into LG's PV Modules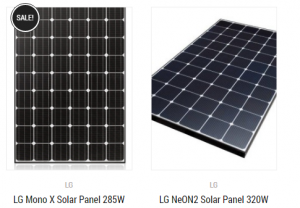 LG fourth generation solar panels benefit from years of thorough research.
Some of the advantages by using LG panels are:
Up to 19.2% module efficiency
Strict Quality Control
Passed Cyclone test
Less roof space needed, perfect for bigger system installation
Higher wind resistance compare to other panel brands
The anti-reflective coating on the panels glass as well as on the cell surface ensures that more light is absorbed in the panel and not reflected
LG Electronics has been doing solar research for over 30 years, and they began producing modules in 2009.
They also apply vertical integration to ensure control over every step of producing their modules, from sourcing of silicone, and manufacturing cells and modules. Since LG applies stringent measures in building their panels, they follow over 500 Quality Control processes throughout their production stages.
LG widely distributes their products in over 100 offices, worldwide. Their top selling locations include Australia, New Zealand, India, Japan and China.    Each mainland city in Australia has an LG office, and Sydney is home to the company's Solar Group.
They also began distributing panels in 2011 with over 80MW capacity to date.    Around 320,000 panels have already been sold all throughout Australia, with zero rates of warranty returns.    This is quite telling of LG's quality of modules.    So far, they've accepted only two panels on goodwill due to poor installation practices.
As LG Electronics continues to bring solar panels in Australia, each module needs to pass the International Electrotechnical Commission or IEC.    With their initiative to meet and possible exceed national standards, LG implements intensive tests in their laboratory certified by TUV, UL, IEC and Inntek.    They also ensure world-class quality by obtaining expert certifications.
You can rely on LG's panel efficiency
Today, LG offers the Neon 2 Solar Module range with excellent performance, whether your property is situated under minimal or peak sunlight exposure.
There's also the new, 320W unit which has roof-optimizing qualities as they produce more electricity than most poly and mono-crystalline panels. Choosing LG's Neon 2 panels enables you to save more on electricity bills and installation costs. They're also available in much sleeker and more stylish designs.
The latest Neon range is also multi-awarded as it reaped the Intersolar Award for Innovation in Europe during 2013, 2015 and 2016. It also gained the Top Brand Australia Award this year. Even third-party, quality reviewers such as Choice Australia, found how LG Panels prove to be the most efficient among 15 other products by which they were compared with.
New RESU Batteries:
Optimized Solution for Energy Saving & High-quality PowerEnergy Storage System(ESS) stores electric energy and utilize them for later
consumption. It is purposed to improve energy efficiency, by enhancing the quality of renewable energy that results stabilization of power supply system. LG Chem provides most optimal energy solution for the users using our state-of-the-art energy storage system with a long lifespan and a top-notch quality.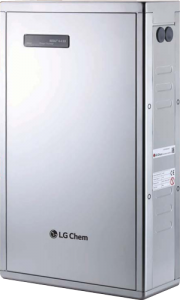 The RESU system is a lithium-ion battery pack & BMS, manufactured by LG Chem in South Korea.
The battery is NMC chemistry, and is available as a 6.4kWh unit, with the possibility of expansion to 9.6 kWh & 12.8 kWh.
The battery is marketed as high energy density (144 Wh/L) and long life (60% SOH after >6,000 cycles @ 90% DOD).
LG Chem is one of the largest lithium-ion battery manufacturers globally, and the RESU is an early market leader for lithium-ion batteries in RAPS and grid-connect systems.
| | |
| --- | --- |
| Battery Name | LG Chem RESU |
| Technology Class | Li-ion NMC |
| Nominal Voltage | 51.8V |
| Rated Capacity (@ 100% DOD) | 6.4 kWh |
| Recommended DOD | 90% |
| Weight | 60 kg |
| Size | 44 L |
A single expansion pack was added to the main unit for this trial, to increase nominal capacity to 9.6 kWh.
The battery bank is connected to an SMA Sunny Island inverter that will charge/discharge the batteries.
LG Chem's Energy Solutions website can be accessed via the following link:
http://www.lgchem.com/global/small-battery/it-device-battery/product-detail-PDEA0001
Considering LG as part of your Renewable Energy installation?
Ask here – to get a quote for full installation.