Stop the heat building up in your home, and make your home comfortable again, but most don't know how to do it..
Simply try out our solar roof ventilators solution – now selling the world's best!
And they are all designed for Australian homes.
Our success rate so far is 100%, every installation has seen an improvement.
Call us for a personalised solution for your home.
Explain the details of your heat problem, and give us the street address, so we can find the best solution.
Be prepared to be surprised by how simple and effective this can be!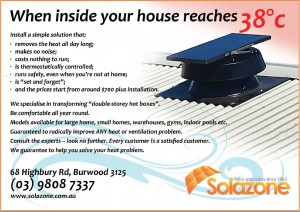 More details here: