Selectronic SP Pro Grid Battery back up systems
The very smart SP Pro inverter offers sophisticated grid feed, with security of battery backup.   This means your solar power still works during grid failure, you are not affected by black-outs, and you can control the amounts and times of feed-in and purchase of grid power.
This independent control of supply, means you can control of the cost of grid supply tariffs, using your battery power during premium charge periods, and either recharging your batteries from off-peak, or from the sun.
Both single phase and 3 phase solar power can be backed up using this method.  Sizes range from 3kw to 66kw.
The example below shows a single-phase solar-powered building system with battery back-up, using ac coupling, and multiple grid inverters, which may be added at any time.
This back-up system can be added to virtually any existing grid-connected solar power setup.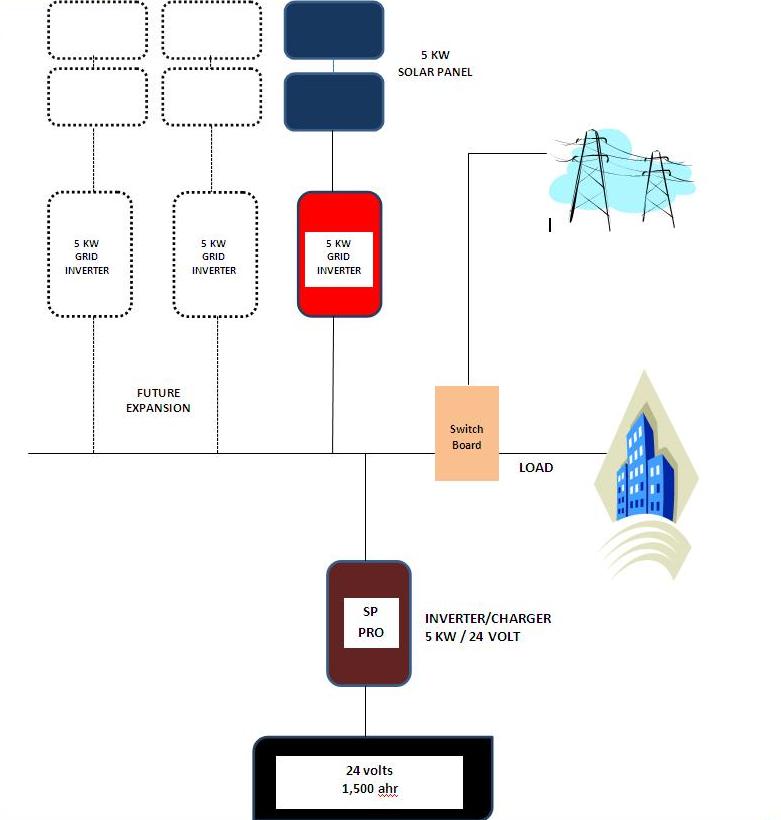 | | | | |
| --- | --- | --- | --- |
| Battery Back-up Power | Max ac solar in | Max power out (from batteries) | Battery Voltage |
| SPMC240 – 3 kw | 3 kw | 7.5 kw |  24 volt |
| SPMC241 – 4.5 kw | 4.5 kw | 10.5 kw |  24 volt |
| SPMC481 – 5 kw | 5 kw | 12 kw |  48 volt |
| SPMC482 – 7.5 kw | 7.5 kw | 18 kw |  48 volt |
| SPMC1201 – 7.5 kw | 7.5 kw | 18 kw |  120 volt |
| SPLC1200 – 15 kw | 15 KW | 33 kw |  120 volt |
| SPLC1202 – 20 kw | 20 kw | 38 kw |  120 volt |
For three-phase performance, add three similar inverters together.
Feed-In-Tariffs and Grid Feed control
The SP PRO Grid Feed function allows the user to control the export of any excess generated renewable power to the mains electricity grid, or to another site, and to take advantage of Feed-In-Tariffs.
It can also be programmed to prevent grid feed-in for those commercial installations where the utility has limited access for grid feed-in purposes, or has limited the allowable size of the solar power system because of Grid Feed limitations.  In this case, all excess solar-generated power may be used at the facility, or stored in batteries for later use.  (Ask us about the programming possibilities for this)
To optimise the variable grid power charges, the SP Pro may also be programmed to not accept any grid power input during certain periods (for instance peak charge times), and to just use battery power to supplement power generated by the solar panels, if needed.
It can also be programmed to only export excess solar power during certain periods, to optimise battery charging costs.
During a power outage, the SP PRO sources additional backup power from a pre-charged battery, adding to any solar power being produced, and offering the user mains quality power and peace of mind. Once the grid electricity is restored, the SP PRO automatically reverts to providing any additional electricity from the grid, simultaneously recharging the battery and maintaining the batteries in optimum condition.
The SP PRO is an innovation unlike any other. Designed from the ground up, the SP PRO features advanced thermal power management and super high speed digital signal processing; setting new standards for reliability, features, surge capability and power density.
Each model of the SP PRO Series inverter is suitable for use in On Grid power systems for residential, commercial and industrial applications.
Selectronic Certified Inverters   (Match with Sp Pro inverter)
ABB
Based in Italy, ABB are one of the largest manufacturers of Grid Tie inverters worldwide. Part of the ABB single phase range is compliant under the Selectronic Certified range.
These inverters are Solar Hybrid ready, and able to connect to your SP PRO battery based system now or any time in the future. Whether a Solar Hybrid system or full Off Grid, an ABB Selectronic Certified inverter will integrate seamlessly.
Independent dual Maximum Power Point Trackers (MPPT's) make these inverters particularly useful where the solar array is needed to face different directions to maximise self-consumption of your solar.
Transformerless design, the ABB solar inverter boasts an efficiency approaching 97%.
To accommodate the needs of some electricity companies, the Power Factor is easily adjustable.
A simple plug and play connection to the SP PRO makes installation to a battery system very simple.
Install today, add batteries tomorrow
European made
High efficiency
5 year warranty
Selectronic Certified.
Easy to read LCD display
Fanless operation
IP65 rating
| | | | |
| --- | --- | --- | --- |
| PVI-3.0-TL-OUTD-SCERT | 3.0kW | 2 MPPT | 160-530V DC |
| PVI-3.6-TL-OUTD-SCERT | 3.6kW | 2 MPPT | 120-530V DC |
| PVI-4.2-TL-OUTD-SCERT | 4.2kW | 2 MPPT | 140-530V DC |
| PVI-5000-TL-OUTD-SCERT | 5.0kW | 2 MPPT | 150-530V DC |
| PVI-6000-TL-OUTD-SCERT | 6.0kW | 2 MPPT | 180-530V DC |
Click here for more information
KACO, Transformerless (manufactured after Apr 2013)
| | | | |
| --- | --- | --- | --- |
| Powador 3200 | 2.6 kW | 3.2kw input | 350-600V DC |
| Powador 4400 | 3.6 kW | 4.4kw input | 350-600V DC |
| Powador 5500 | 4.6 kW | 5.5kw input | 350-600V DC |
| Powador 6600 | 5.5 kW | 6.6kw input | 350-600V DC |
Click here for more information
KACO, Transformer type (manufactured after Jan 2011)
| | | | |
| --- | --- | --- | --- |
| Powador 2002 | 1.65kW | 2kw input | 125-510V DC |
| Powador 3002 | 2.5 kW | 3kw input | 200-510V DC |
| Powador 4202 | 3.5 kW | 4kw input | 200-510V DC |
| Powador 5002 | 4.2 kW | 5kw input | 200-510V DC |
| Powador 6002 | 5.0 kW | 6kw input | 200-510V DC |
Click here for more information
More details of the SP Pro inverter models right here
Sizing your Backup Batteries
It is important to carefully consider what it is that you want the back-up system to run.  In most cases it will not be running the entire usual load, and often it will be for only a short time.  This means that the battery storage size can be reduced to cover your estimated emergency usage, with the addition of a margin for safety. Solazone supply a wide range of suitable batteries, including gel, AGM, wet cells and the new silicate batteries. The most suitable will be determined by what you wish to run, and when.  We urge you to seek assistance in selecting the batteries.   Use the Sizing Form here may help you to estimate the battery size.
What are the benefits for me?