Selectronic SP Pro hybrid inverter
The Australian-made solution for Australian families.
The very smart Selectronic SP Pro, Australian designed and made inverter-charger, offers sophisticated solar power with grid input and output control, and the security of reliable battery backup.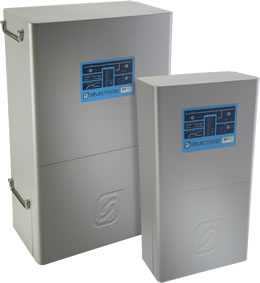 This means your solar power still works during a grid failure, you are never affected by black-outs, and you can control the amounts and times of feed-in to and purchase from the grid.
This independent control of supply, means you control the cost of grid supply, using your battery power during premium charge periods, and either recharging your batteries from off-peak grid, or from the sun.
Both single phase and 3 phase solar power can be backed up using this method.  Sizes range from 3kw to 100kw.
The diagram below illustrates a single-phase solar-powered building system, with battery back-up using ac coupling, and a single inverter.
Additional grid inverters and solar panels may be added at any time.  The feed to the grid can be controlled and limited, which permits you to install any size solar system you want, and not be dictated to by the power company.

This back-up system is extremely flexible, and can be added to virtually any existing grid-connected solar power setup.
Order now, or ask a question:
Queensland:    (07) 5448 8304      qld at solazone.com.au
Victoria:            (03) 9808 7337      vic at solazone.com.au
or use this form: