SMA battery back-up systems
Most people know that their PV-plant disconnects from the grid in case of a blackout.  In this case it does not produce any more electricity – neither for grid feeding nor for the supply of the house.
SMA Technologie AG closes this gap with the Sunny Backup-System:
Sunny Boy Storage 2.5
Simply Greater Independence
The Sunny Boy Storage is the battery inverter for high-voltage batteries from important reputable manufacturers.   With a charge and discharge power of 2.5 kW, it is ideally suited to handle electricity demand of a private household.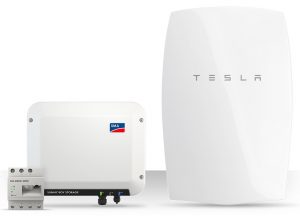 A SMART COMBINATION
FLEXIBLE AND COST-EFFECTIVE SYSTEM DESIGN AROUND THE CLOCK
With the Sunny Boy Storage, customers benefit from markedly reduced system and installation costs and flexible applications. Thanks to AC coupling, the battery inverter can be installed or expanded in any location, at any time, regardless of whether or not there is already a PV system installed. The Sunny Boy Storage is a true jack-of-all-trades, one that uses high-voltage technology to make it cost-efficient and light weight. It also uses just a few components, because the most important functions for intelligent battery management are already integrated. This makes the Sunny Boy Storage the ideal choice for putting more sun in your electricity supply.
Flexible
For new and existing systems: reduced installation costs, can be retrofitted and expanded at any time, as needed
For almost all PV system types: string inverters, module inverters and power optimizers
Can be combined with numerous types of energy: PV, wind energy, combined heat and power plants
Choice of lithium-ion battery (currently Tesla Powerwall, additional batteries to follow shortly)
Efficient
Most cost-effective AC-connected battery inverter on the market
97% efficiency allows for optimal use of cached energy
Maximum PV yields while meeting all applicable regulations for feed-in limits (e.g., EEG, KfW 275, Zero Export)
Easy to use
Quick and straightforward one-person installation, thanks in part to it weighing only 9 kg
Simple installation using a smartphone or tablet via WLAN and an intuitive web interface
Everything at your fingertips thanks to its direct connection to Sunny Portal / Sunny Places
See Sunny Boy Storage details here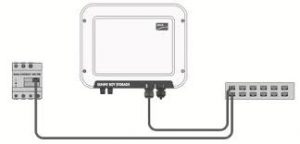 Add a Sunny Island to an existing PV-system for big back-up and off-grid loads:
It automatically switches the system to island power supply in the case of a grid failure.
You can equip every SMA inverter-operated solar power system with a Sunny Backup-System.
A further advantage is that due to the integration of the PV system, a small and therefore low-cost battery can be fitted, as it is usually only needed to bridge the night hours, as the solar power system will keep operating as normal, even if the power grid is down.
Sunny Backup system are available for all power ranges from 1kw up to 100kW.
Easy to install and easy to extend later with more batteries.   Most SMA grid inverters can be coupled to the SMA Sunny Island inverters to provide reliable grid back-up.
Can be used with any existing SMA or Sunny Boy inverter-based solar power systems.
Explain the benefits and likely pay-back for me: