SMA battery back-up
Most people know that their PV-plant disconnects from the grid in case of a blackout.  In this case it does not produce any more electricity – neither for grid feeding nor for the supply of the house.
SMA Technologie AG closes this gap with the Sunny Backup-System:
SMA Sunny Boy 5000SE Smart Energy – With Combined 2kWh Battery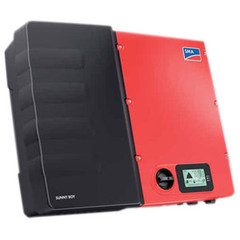 SMA 5kW dual MPPT inverter with 2kWh lithium ion battery integrated in one easy-to-mount package
The new Sunny Boy Smart Energy the easiest solution for typical residential PV applications. This combination of a modern PV inverter and a battery with an effective capacity of 2 kWh not only optimizes energy consumption
but also makes it possible to use home-generated solar energy around the clock. The Sunny Boy Smart Energy is the first wall-mountable, series-produced PV inverter to feature an integrated lithium-ion battery, making it perfect for use in the SMA Smart Home. Additionally, the integrated Webconnect function provides worldwide access to consumption and yield data via Sunny Portal.
Battery capacity of 2kWh
Increased self-consumption
Outstanding efficiency. 
Low-cost installation thanks to quick and easy wall mounting – comparable to a standard PV inverter.
Up to 50% less electricity from utility companies.
Integrated Webconnect function which communicates with Sunny Portal via Ethernet.
Multifunction relay for easy load management
Sunny Boy Storage 2.5
Simply Greater Independence
The Sunny Boy Storage is the battery inverter for high-voltage batteries from important reputable manufacturers. With a charge and discharge power of 2.5 kW, it is ideally suited to handle electricity demand of a private household.
See Sunny Boy Storage details here
As an add-on for an existing PV-system there is another solution:
It automatically switches the system to island power supply in the case of a grid failure.
You can equip every SMA inverter-operated solar power system with a Sunny Backup-System.
A further advantage is that due to the integration of the PV system, a small and therefore low-cost battery can be fitted, as it is usually only needed to bridge the night hours, as the solar power system will keep operating as normal, even if the power grid is down.
Sunny Backup system are available for all power ranges from 1kw up to 100kW.
Easy to install and easy to extend later with more batteries.   Most SMA grid inverters can be coupled to the SMA Sunny Island inverters to provide reliable grid back-up.
Can be used with any existing SMA or Sunny Boy inverter-based solar power systems.
Explain the benefits and likely pay-back for me: