Future Wave – Energy Saver for Pumps

The Future Wave Energy Saver is an Australian designed and owned product that can save you in most cases up to 75% on your pump electricity consumption and costs while significantly reducing your pump's impact to the environment.

The Future Wave Energy Saver is so effective in reducing energy consumption that the unit can pay for itself in 1 – 2 years in many cases, depending on pump size, running times and tariff charges and is now available in both a Single unit and a Dual unit that can run two seperate pumps providing a better return on your investment.
5 Years of trials and engineering reports have been conducted to ensure the quality of the product and establish the full extent of its energy saving capabilities. If the Future Wave Energy Saver was used in just half of the domestic swimming pools in Australia, Carbon Emissions would be reduced by at least 2 million tonnes per year.
Applications of the Future Wave Energy Saver
The Future Wave Energy Saver represents the next stage of domestic pump design and engineering and it can be fitted to your pre-existing electric constant flow pumps and motors. Appliances that can benefit from the Future Wave Energy Saver include:
Pool Pumps – Domestic or Commercial
Spa Filtration Pumps
Heat Pumps
Solar Water Heating for Pools
Water Features
Air Conditioning Cooling Towers
Irrigation
Water Transfer Stations
Agricultural applications
Hydroponics
Any application you can think of that uses an electric constant flow pump / motor.
How does the Future Wave Energy Saver work?
Most household pool pumps have single phase motors, these pumps are extremely inefficient as they use an incredible amount of energy to start. In addition, these pumps are not designed to have the speed of the motor reduced, so they stay on the one speed the entire time, the highest speed, consuming huge amounts of energy regardless of the job they are doing.
The Future Wave Energy Saver will soft start the pump motor, removing the huge initial start up demand of electricity. The pump will then operate at close to it's normal rate for a set period while it primes the pump. When the pump is fully primed there is no need for it to draw so much energy to work effectively so the Future Wave Energy Saver will then wind the motor down to the energy saving level selected, saving significant amounts of electricity without having any detrimental effect on the running of your pool.

Benefits of the Future Wave Energy Saver
The benefits of the Future Wave Energy Saver are significant and can have an impact on both your immediate and long term household or commercial outgoings as well as reducing your carbon footprint.
Save Energy:
Save from 50% to as high as 75% in some cases on your pump energy consumption depending on which energy saving level the Future Wave Energy Saver is set on.
Typical savings for a domestic pool range between $400 to $800 annually depending on pump size, hours run and tariff. Even higher again with the Dual Unit.
Typically we see pay back periods through savings in the range of 12 months for some commercial and 2-3 years for domestic applications depending on various parameters.
Less Maintenance:
The Future Wave Energy Saver will enable the pump to last longer by significantly reducing the wear and tear on the bearings and stress on the motor.
Most single phase motors operate at extremely high bearing temperature which contributes to their high failure rate. Typically, a pump's bearing temperature is less than half when using the Future Wave Energy Saver.
The Future Wave Energy Saver unit itself does not require maintenance.
Savings Without Comprimising Water Quality:
With a reduction in the speed of the motor also comes a smaller proportional reduction of water flow through the pump. This is not a bad thing as it allows the filter to clean or polish the water at a much more effective rate as the vast majority of pumps are trying to force the water through filters at a much higher rate or pressure than what is required for the optimum results being single speed pumps.
No need for additional use of chemicals, salt or acid.
Despite the reduced flow, the higher efficiency levels mean that the pump does not have to be run for longer.
The slightly reduced flow will not normally affect the function or effectiveness of a pool Kreepy Krauly / Barracuda device. In fact, in many cases it will improve results by reducing the cavatation effect caused by excess pressure through the cleaner head.
There are thousands of domestic and commercial Future Wave Energy Savers currently in operation (some units have been in operation for several years) with no water quality issues.
Better Filtration:
Several Trials have been conducted to establish the filtration power of the Future Wave Energy Saver,
including:
Daily monitoring at the Sunshine Coast Regional Council Buderim Aquatic Centre.
Two laboratory tests undertaken at the Sunshine Coast Water Test Laboratory over a month trial with no noticeable variance in water quality.
4 month trials at UnderWater World and at the Peninsular Beach Front Apartments, both at Mooloolaba on the Sunshine Coast, Queensland. Both trials have been held over 4 months and no water quality issue has been identified.
Noise Reduction:
Once the Future Wave Energy Saver winds the motor speed down you will notice a dramatic reduction of noise, estimated to be as high as an 80% reduction.
Often this is a benefit for your neighbours! Many pool pumps have been put away from household's main bedrooms and living areas due to the noise, often putting it near to a neighbour's bedroom or living room.
You can now run your pool pump during off-peak power periods. That's another saving!
Reducing your Carbon Footprint:
The electricity needed to operate a normal household pool pump over a year creates about 4 tonnes of carbon to be emitted into the atmosphere. The Future Wave Energy Saver will reduce this to roughly 1 tonne of carbon being produced to operate your pool pump.
This is a saving of 3 tonnes of carbon into the atmosphere each year.

The FutureWave Energy Saver is perfectly suited to do-it-yourself installation. There is no plumbing or wiring to install, all you do is unplug your pool pump from its mains socket, plug it into the FutureWave and then plug the FutureWave back into the mains socket. The FutureWave also plugs directly into a time switch or salt chlorinator.
It's that easy
Under monitored trials The Future Wave has proven in the majority of cases to save 80% of the running cost for the pool pump e.g. for the average pool pump: saving approx $700.00/year (at present electricity charges) and a staggering 3 tonnes of Carbon Gas Emissions!
Not only do you make great savings, but you also save the planet!
Silent Running of Pump & Much More
Along with the massive savings, benefits include:
Silent running of pump
Improved pool filtering & cleaning
Less wear & tear on pumps & filters
Suitable for Domestic & Commercial Pools
NO plumbing or hard wiring required
Advice from our experts on Power Saving Settings & Installation.
Can Be Used On Over 90% Of Existing Pumps!
The Future Wave can be used on over 90% of existing pool, spa and water feature pumps!
5 years of trials & engineering reports, have proven that The Future Wave can deliver up to 80% reduction to your Pump Power bill, also allowing the pump to be run DAY or NIGHT due to the noise reduction.
Future Wave Energy Saver (Single)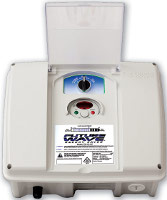 Suitable for use on a single pump (e.g. Pool Filtration Pump)- Is an Australian designed and owned product that can save you up to 75% on your pump's electricity consumption and costs whilst reducing your pump's impact on the environment.
Huge Power Savings – Up to 75%
Huge Noise Reductions – Up to 80%
Reduced Wear & Tear on your pumps
Reduced Carbon Emissions
No Plumbing or Hard Wiring Required
3 Year Warranty
30 Day Money Back Satisfaction Guarantee
Specifications
Width 300mm
Height 400mm
Depth 190mm
Weight 6.5kg
Mounting brackets supplied with unit
Price: $998 with free delivery
Future Wave Energy Saver (Dual – for two pumps)
Suitable for use on 2 pumps (e.g. Pool Filtration Pump & Solar Pump)- Australian designed & owned. Can save you up to 75% on your pump's electricity consumption & costs whilst reducing your pump's impact on the environment.
Huge Power Savings – Up to 75%
Huge Noise Reductions – Up to 80%
Reduced Wear & Tear on your pumps
Reduced Carbon Emissions
No Plumbing or Hard Wiring Required
3 Year Warranty
30 Day Money Back Satisfaction Guarantee
Specifications
Width 500mm
Height 400mm
Depth 190mm
Weight 11kg
Mounting brackets supplied with unit
Price: $1840 with free delivery
ORDER NOW – FAST, FREE DELIVERY, AUSTRALIA-WIDE