Care and maintenance of solar pool blankets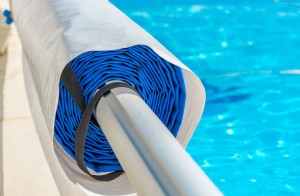 How to protect your Solar Pool Blanket:
Folded or Rolled, your blanket should be protected from high temperatures and direct sunlight.
All plastic materials will naturally deteriorate when exposed to sunlight, with the addition of UV stabilizers this deterioration is slowed.
Your swimming area is one of the harshest environments for any plastic product. Sunlight chlorine and heat will all take their toll on the UV stabilizing system in your solar pool cover. Excessive exposure to these elements will accelerate the usage of the UV stabilizer, thus reducing the life span of your pool cover, and voiding your warranty.
For this purpose the protective Over-cover that is provided with your solar pool blanket roller must be in place at all times when your solar blanket is not on the pool. (Over covers are also available for purchase separately.)
The same sunlight properties that are used by your blanket for its heating purposes, may cause your blanket to be damaged if it is not kept below the recommended temperature.  
If your blanket is not stored below 45 degC, damage to the material may be irreparable. Extra high temperatures may cause layers of the blanket to fuse together when it is stored.
The impact of Chlorine
Pool chemicals – although essential for sanitation – are highly corrosive.
Whether you have a salt water pool or not – any pool that is chemically sanitised uses Chlorine as the disinfectant.
For more information, please see: Facts about Chlorine section later in this Fact Sheet.
Molecular Chlorine (Cl2) is a highly corrosive greenish-yellow gas with an irritating odour.
In whatever form Chlorine is added to the water, or produced by a salt water chlorinator – it eventually returns to its natural state as a gas and escapes.
However, when a pool cover is in use it cannot simply disperse into the atmosphere.
It is trapped immediately below the blanket. This area is also heated most by the sun – increasing Chlorine transfer from the water – at a high temperature.
These factors combine to create extreme conditions that are likely to increase blanket degradation.
Daisy UltraDome™ Solar Pool Blankets combat potential degradation in the following ways:
• 
UltraDome™ bubble profile creates an even, thicker bottom layer with no weak points
• 
UltraDome™ material contains maximum UV absorbers, quenchers and stabilisers
• 
UltraDome™ material also contains tougheners to minimise the effect of solar and chemical degradation
How do Daisy UltraDome™ blankets insulate against heat loss?
The UltraDome™ bubble profile results in a total insulating air layer to almost the entire bubble depth.
DAMAGE CAUSED BY IMPROPER USE OF THE SOLAR POOL BLANKET, OVER-CHLORINATION, AND EXPOSURE TO DIRECT SUNLIGHT WHEN OFF THE POOL, WILL RESULT IN VOIDING THE WARRANTY.
Cleaning and storing your Solar Pool Blanket:
All that is required for the cleaning of your solar blanket is a soft brush and clean cold water. Any time you plan to store your blanket away, it is important to make sure that you hose it off any chlorine with clean cold water.
This will prevent chlorine concentration, which is damaging to the life span of the blanket.
Mildew or algae build up can be easily removed by lightly scrubbing the solar blanket with a soft brush or rag.
These substances are not damaging to the solar pool blanket.
If you are planning to store your blanket for long period of time, (i.e. over winter) allow it to dry first, to prevent the growth of any mould and mildew.
Removing and replacing your solar pool cover:
Removing and replacing your Solar Pool Cover should be a simple procedure, especially with your Solazone pool blanket roller.
Our roller is designed to be compact, portable and easy to use, one person can easily reel the blanket from your pool and cover it, with little difficulty.
The special UV resistant cover is provided to protect your blanket from the sun's damaging rays.
You MUST ensure that this cover is used whenever your pool blanket is not in use on the pool, even if it is only for a short period of time.
Replacing your pool cover is just as simple as removing it, one person can unroll the blanket back onto the pool with ease.
If you do not wish to use a pool blanket roller, it is best to fold your solar pool blanket in a concertina fashion. One-meter lengths are best for easy storage.
Whether you use this method or any other, a sun cover is still necessary for the protection of your pool blanket, when it is off the pool.
Tips for maximum benefit & long life:
Operate the filter during the hottest part of the day
Remove the solar cover when super chlorinating
Never leave the cover in direct sunlight when not on the pool
Store the cover and roller in the shade when not in use
THIS PRODUCT IS NOT DESIGNED AS A SAFETY COVER, AND IS NOT MEANT TO SUPPORT A PERSON.
NEVER SWIM WHILST THE COVER IS EVEN PARTLY ON THE POOL.
Leave your details here, for a consultant to contact you.