Solar Pool Heating Pumps

Solazone supply a range of pumps suitable for solar heating pools and spas.
Reltech 240 volt AC Pumps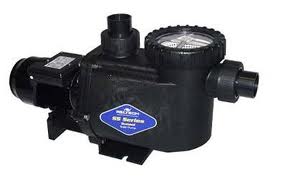 Made in Melbourne, these thrive in pool environments that require low to medium head pressure and flow.
Specifically designed for above ground pools, in-ground pools and spas, and for solar applications.
Energy efficient, low noise and competitively priced pool and spa pumps.
Durable, Reliable and Built to last.
• Strongly constructed thick walled, one piece pump body made from a high quality engineering grade thermoplastic material that is corrosion resistant. A glass reinforcement and UV additives also ensures the pump is designed to last in all weather conditions.
• Reliable motor rated for continuous operation ensures a long bearing life.
• A stainless steel pump shaft, a lapped true carbon face, ceramic seal and stainless steel assembly nuts and bolts are just some of the quality components used to ensure ongoing reliability and extended life cycle.
Quiet and Energy efficient.
• The design characteristics of the diffuser and balanced impeller system ensures low noise operation whilst offering excellent priming. It also offers constant water flow and filtration at economical running costs.
User friendly and Functional.
• Extra large robust strainer basket prevents breakage during operation and debris removal and requires less frequent cleaning.
• Positively located strainer basket to eliminate the inlet being blocked.
• Easy removable clear inspection lid for quick and easy routine maintenance and cleaning of strainer basket.
• No stress on the sealing o-rings because clamping pressure is used rather than twisting pressure, therefore extending the life of spare parts on your pump.
• Comes with non return flap for solar applications to prevent back flow.
• Self aligning inlet and outlet barrel unions for both suction and discharge ports allowing for quick and easy installation and removal.
• Sunsol SS Series is covered by a limited 2 year warranty against defects in materials and workmanship (refer to Operating + Installation Manual for full details)
| | | | | | |
| --- | --- | --- | --- | --- | --- |
| Model |  HP |  Input watts |  Flow rate @ 8m |  Noise dBA @ 1m | Prices April 2014 |
| SS50 |  0.5 |  650 |  150 |  55 |  $570 |
| SS75 |  0.75 |  710 |  170 |  58 |  $590 |
| SS100 |  1.0 |  910 |  250 |  60 | $605 |
| SS125 |  1.25 |  1100 |  300 |  62 | $620 |
Onga 240 volt AC Pumps
Leisure Time pool pumps have been purposefully designed to provide maximum performance and corrosion resistance at a realistic cost.
Ideal for heating most domestic and some small commercial swimming pools.
Typical Applications
Swimming pool heating from 20,000 litres up to 90,000 litres
Solar Heating circuits for pools, including those connected to our evacualed tube solar pool heating.
Above ground pools – both filter pump and solar heating pump in one !
Features
IP55 (TEFC) Motor
Electrical approvals
Unique universal barrel unions for easy connection and servicing
Double zine coated end shield
Thermoplastic pump end
Benefits
Protects against water and dust whilst keeping your motor cooler
Totally safe – tried and tested for your protection
Makes installation easier
Corrosion protection – extends the life of the pump
Makes the pump suitable for heated water
Model
Watts

Max Pressure

(kPa)

Discharge head(metres)
3
6
9
12
15
Flow (litres per minute)
LTP400S
400
145
145
120
89
30
 
LTP550S
550
158
220
180
130
90
 
LTP750S
750
 190
290
250
210
150
100
15% discount for online orders for Onga pumps
 See Latest Onga pump performance & specifications here
Combo Solar Powered Pump.
The Combo pump is powered by a brushless dc three phase motor, that operates from a power maximiser connected to either a 48 volt battery supply, or directly to solar panels.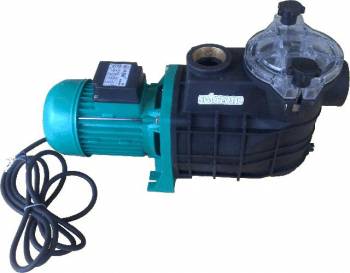 Perfect for running the pool filtration system of an average size pool, or for running independent solar heating.
Uses four 180 watt solar panels, located on the pump shed roof, or somewhere near to the pool.
Absolutely no running cost for this pump, and it is very quiet.
Expected life is in excess of 15 years, as there are no parts to maintain.
Combo brushless DC pump is nominal 600 watts power out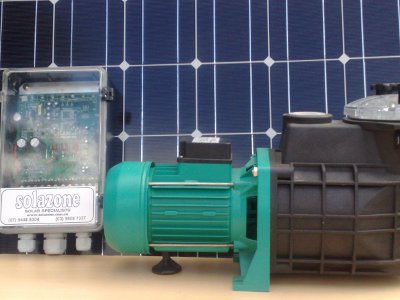 It can be run from maximum of 760 watts of solar panels, or at 48 volts dc input from batteries.
Maximum Flow rate is approximately 250 litres per minute
Maximum head is about 14 metres.
Maximum casing pressure is 1.2 bar
Maximum water temperature is 60 degrees C
Warranty is 3 years pro rata.
Another use for this pump is as a solar-powered water transfer pump, for fish pond circulation pump applications, and where the total pumping head is less than 12 metres.
There are NO running costs, and no greenhouse gases whatsoever !
The pump controller is a MPPT electronic unit, that maximises the amount of water flow by adjusting the voltage and current from the solar panels, to optimise running speed according to the current solar input conditions.   It is RUIJIA Electrical model 10020.
Solar pump control system is a MPPT solar power maximiser.
Maximum input voltage of 110 v, and output voltage of 48 v DC.
Terminals inside are for solar input, battery bank & pump connections, as well as extra terminals for protection of water supply running dry, tank full, etc.
There is inbuilt speed control and a timer for when the pump is running from batteries.
The controller box is designed to dissipate heat, and is IP rated to protect the electrics from moisture.
Solar Power kit to run this pump
4 x 180 watt solar panels
Mounting frames for metal or tiled roof (specify which)
Cable connectors and 2 x 7.5m DC twin solar cables
Control cabinet containing safety switches and inter-connecting cables
Installation and Operating manual
To order now, or for more details: