Solar Pool Heating Strips

Designed to fit the size and shape of your roof.
Can be made to any shape or size.
Suits tile, slate or metal roofs.
Tough against sun damage, and damage from hailstones.
If ever damaged, cheap and easy to repair.
Whether you want a do-it-yourself kit, with our easy-to-understand instructions, or a fully-installed, completely automatic solar heating pool system, heating your pool, within a week or so. Just let us know how we can best help you.
How does a Solar Pool Heating System work?
There are various types available to heat your pool, but the most energy-efficient and cost-effective solution is a solar pool heating system designed for your particular pool.
The heating process simply uses the energy of the sun to increase the pool water temperature by circulating the warm water through tubes lying in the sun, and back into your pool. The solar collector is positioned in a sunny area, on a roof, on the ground or on a specially-built frame. The pool water is then pumped through the collector using your existing pump, or a specially-sized solar pump, working from the mains, or separate solar panels.
The water in the solar collector is heated by the sun and immediately returned to the pool, turning your pool into a giant heat sink. It's that simple!
How much heat does it generate?
As any solar system relies on the sun's energy, quite naturally average pool temperatures are going to vary with the weather, and from year to year.
To give you some idea, the above graph shows an average daytime result, based on an average absorber area related to your pool's surface area, and location.
Solar heating is viable with a solar collector area covering a roof space as little as 60% of your pool's surface area but we usually recommend around 100% solar collector area for the best results. Add an automatic temperature control system that allows you to set-and-forget the desired pool temperature, and enjoy your always-warm pool.
How much does Solar Heating cost to warm my pool?
Almost nothing! Once you have purchased and installed your Solar Heating System the heating is actually free!
You have almost no running costs like you would have with gas, electric or oil-burning heaters, as it runs on the sun's energy, so it will cost you next to nothing to keep your pool at around summer swimming temperatures for many extra months each year.
 Do-it-yourself Solar Pool Heating Kits
– full installation instructions included
– phone helpline assistance included in the price
– final inspection and certification service available (local areas).
We recommend using the same surface area of your pool as the minimum amount of solar collector for most applications, obviously if you have sufficient roof space increasing this amount results in more heating.
The manual D.I.Y. system uses your existing filter pump to pump the water through the solar collector, and is best suited for singe story and smaller installations up to 24sqm, as it will put extra load on your existing filter and pump
For larger systems without dedicated solar inlets and outlets we recommend using a booster pump, which operates in conjunction with the existing filter pump.
For pools with dedicated solar inlets and outlets a solar pump with a Lint Pot is required, (3/4 HP for single story /1HP for double story homes).
A Solar Controller will automate your system, turning your pump on when there is heat available, and heating to your desired temperature setting. For Booster systems use the SC2DT Digital controller as this will also control your filter pump.
All kits come with complete instructions and all components to install solar to your pool, the only added expense is 40mm pressure pipe which can be purchased locally from plumping outlets
The manual D.I.Y. system is best for single story installation. It is not recommended for 2+ story installations as it puts excessive load on the pump & filter
Our Solar heating D.I.Y. kits contain :
Collector material, Manifolds & Grommets, 2 Way Hand Valve, 6mm Splicing Barbs, 40mm Saddles, Check Valve, 40mm Elbows, 40mm End Caps, 40mm Tees, Solvent Cement, Blunted Drill Bit, Solar collector adhesive – 1 Tube per 4 SQ MT (Tiled Roof), Roof Security Strapping, for use with metal roofs, Vacuum Relief Valve, installation guide.
Other parts may be added, as required.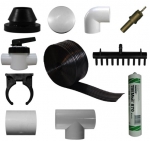 Latest model solar collector is available now – DIT kits or fully installed