Maintenance, Cleaning & Removal of solar panels.

1. Cleaning – Do dirty solar panels really matter?
Yes, the external surfaces of your panels are designed to capture sunlight and convert to usable electricity so anything that hinders the ability of the solar panels to capture sunlight will decrease the amount of generated electricity. This decrease will cut into your energy savings.
Professional Solar Panel Cleaning service:
Our professional team of technicians are specifically trained to perform a detailed cleaning of your solar panels.
This will maximise electrical efficiency and potentially save your home or business thousands of dollars. They have also been trained in height safety and customer service.
Their professionalism in providing you with the best possible service which is most importance to us and any feedback to Solazone is strongly encouraged to ensure the best ongoing service being provided to you in the future.
The team at Solazone offer you a full cleaning and maintenance service for your solar panel installation.   We are dedicated to help you achieve the most from your investment.
After cleaning, we visually check the solar panels, mounting frames, wiring and inverter operation to ensure optimal performance. We report any possible problems, and can also make suggestions for upgrades, if required.
Our 20 point safety check and clean can usually be completed within two hours, depending on the size of your system.
It includes:
Full visual check of the cables, wires to check for any signs of fatigue or damage from vermin
A visual defect inspection of the panels, checking for salt residue build up, cracks, chips or discoloration possibly caused by hail or lightning
AC and DC Isolator Integrity and Earthing check
Check of all wiring enclosures, associated switches, circuit breakers and fuses
Inverter performance and data analysis, with recording of readings
Perform an extensive clean of the panels removing any build up of leaves, Bird or Bat faeces, moss, salt residue from living near the coast or dust and dirt from the pollution of living near main roads, factories or under a flight path
Electricity bill analysis, checking to make sure you are on the best possible rates, discounts and Feed in Tariff with your provider
Our technician will also be able to answer any questions you may have in regards to your system and suggest ideas that will optimize your savings from
your investment
A full overview and report of how your system is operating with before and after photos of your panels will then be sent to you within 10 days of your service and maintenance.
2. Maintenance – Inverter repairs, replace faulty switches, install earthing, replace broken panels, remove and store solar panels for renovations.

– Why Regular Maintenance Service for your solar panels ?
Your purchase of solar panels represents a significant investment.
Allowing solar panels to become dirty will affect the efficiency and the amount of electricity you generate.
Regularly clean your Solar Panels for maximum performance.

Solar panels are susceptible to all elements of nature.   During the night time moisture becomes a problem leading to water spots facilitating quicker accumulation of dirt, bugs, insects, and bird droppings.
In coastal areas more frequent cleaning and maintenance may be required due to salt build up.
• Dirt and dust particles
• Debris from trees
• Pollen
• Bird droppings
• Salt build up in coastal areas
• Exhaust emissions
• Insects excretion

Our safety inspection includes the solar panels and frames, bolts, wiring, switches and enclosures, and we report on any possible problems or faults, so that you can schedule repairs, and know that your family is safe.
Working at heights and accessing your solar panels can be extremely dangerous.  The team at Solazone have all the safety equipment and accessories to do the job safely, clean solar panels perfectly and leaving a professional finish.   Rainwater will wash a bit of dust away but not remove hard stains, bird droppings, pollen, salt build up, spider webs and excretion from insects and possums.

 – Replacement of faulty switches or DC isolators.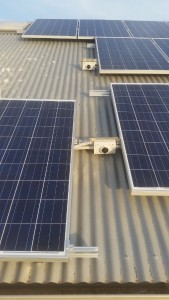 A common fault with solar power systems is that the roof or wall DC isolator fails.   This can have the effect of stopping generation of power or causing a fire.  It is MOST important that faulty switches are replaced immediately.   We can replace with a newer version of the same, or change to the latest designs.
– Inverter repairs and testing.

If the inverter has a fault, you are not generating power.   The bills go up, and you have no grid feed income.   We can service inverters, fixing those with minor faults, or sending to our repair centre if a reliable brand, otherwise we can replace with a new highly efficient, latest technology inverter.
 – Removal of existing solar panels for renovations, or roof replacements.

We are experienced at removing and safely storing your prized solar power system, whilst renovations, or roof replacement takes place.   Generally we store the solar system on site, but we are able to rent storage space off-site, if there is insufficient room or security.   When the project nears completion, contact us again the re-install your solar power system, to the latest wiring rules.  We are particular about your safety.