Solar Power your home.

Do you want a reliable, good quality solar system, guaranteed and fitted by an honest local, long-standing solar power company?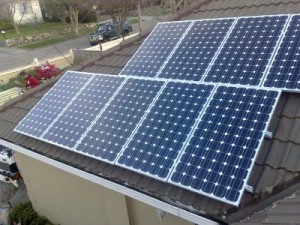 As solar electric power is very popular now, consider all of the solar power facts, including the length of experience of the solar company, the accreditation of the solar installers, your solar panel rebate, and the solar power advantages needed for your particular residential solar power needs.
Real solar power prices are not just about the cheapest installed cost of a solar power system.
Make sure your residential solar power system is correctly sized, is of a reputable brand, and that the Company is there to support you. Our Sunshine Coast solar power systems have the advantage of our technical skills, great solar panels and inverter range, our attention to detail is the best on the Sunshine Coast, and include extras such as stainless steel fittings for longer life near the ocean.
In Melbourne the cost of home solar power varies widely, depending on quality of the solar power system, and the experience of the accredited solar installation team. We are sometimes asked to repair and upgrade discounted solar systems with problems.
State Government feed-in tariffs and the Commonwealth Government solar power rebate mean you need to carefully consider your current power usage and bills, before proceeding with buying solar power.
Beware of those selling you whatever they have on offer. We carefully analyse your bill, calculate your power usage pattern, and help you select an optimum solution for your needs.
How does Solar power work ?
Most suburban homes in Australia are connected to the electricity grid, which uses alternating current (AC) 240 volt electricity. Solar panels generate direct current (DC) electricity, so generally a power inverter is needed to transform the DC electricity into AC power suitable for household needs. Homes with solar power systems installed use their own solar power first, before sourcing electricity from the grid. When the solar panels don't produce sufficient electricity for your needs, eg. at night, electricity is supplied from the electricity grid.
For systems supplied with a battery backup (optional), the power stored in the batteries can be used at night, or during blackouts. The batteries are usually recharged next day by the solar panels.
Solar power is a zero-emission electricity source. One megawatt hour of solar-derived electricity avoids approximately one tonne of carbon dioxide and other greenhouse gases.
We have been fitting solar power since 1983 to urban homes, rural homesteads, holiday shacks, boats, farms, city townhouses, and to factories. We have no unhappy customers in all those years, and many happy fans. We continue to serve our many existing customers with their latest solar needs.
Some tips:
Electric hot water generally uses about 1/3 of the total household power use, even though it can be on a cheaper tariff. Changing to Solar Hot Water will substantially reduce this component.
Typical biggest power users are air conditioners, heaters, swimming pool pumps, spa pumps, old refrigerators and freezers, electric stoves, halogen downlights and large plasma TVs. Reducing the use of these will save on your power bill. Consider changing from using the air conditioner & fan heater to a Solar Air Heater or a Solar Heat Extractor; swap your pool pump or solar pool heating pump for a Solar Powered Pool Pump, or changeover your downlights for low energy LEDs.
Phantom loads, such as little red lights and appliances on stand by, all add up to substantial amounts of power over the quarter. Switch them off at the wall where possible, or use our Future Switch to reduce wasteful power consumption.
Thinking you have waited too long, and now "missed the boat" ?
Decreases in State Government feed-in tariffs, don't mean you have "missed the boat" Mostly, we can clearly demonstrate that is not true. It can depend on your daily usage pattern, local power charges, and the overall size of your bill. Power charges still continue to rise, not due to the carbon tax, but due to increased Government and network charges.
There looks to be no relief with power charge rises. Let us see if we can save you some money ongoing.
Who can I trust ?

With more than 30 years experience installing quality solar, we are well-positioned to help you to find the right solar system. We install good quality, high-performing, well-priced solar power systems, as well as premium solar systems with all the latest options.
Let us explain the differences to you – research our most popular products here on this website, and if you feel you need some extra guidance, we are always pleased to help.
Feel completely at ease – our installation teams are highly-trained and experienced specialists, with continuous ongoing training to keep them up-to-date. We take those extra steps to protect your home before, during and after installation. Solazone is fully licensed & insured for your total protection, and our performance & your satisfaction are guaranteed.
Why trust an inexperienced company that doesn't stand behind its products and services? How many recent 'big' solar companies and solar installers are no longer contactable for service ?
When you choose Solazone, you can be assured that the work and the products will be of the highest quality.
Contact us today by phone, or use the contact form below, and we will respond with prompt answers to your questions.
How much power could I expect to generate ?
We use these figures form the Clean Energy Council to calculate your system size. Beware of sellers over-estimating the amount of annual sunlight that will be received.
Output per kw of north-facing solar panels (kwhr/day)

Nearest city

Best month

Worst month

Annual average

Darwin

5.11

3.54

4.47

Cairns

4.44

3.18

3.86

Brisbane

4.61

3.34

4.04

Sydney

4.83

2.82

3.94

Canberra

5.32

2.76

4.22

Melbourne

4.59

2.22

3.58

Hobart

4.60

2.14

3.54

Adelaide

5.12

2.51

4.25

Alice Springs

5.19

4.21

4.81

Perth

5.40

2.93

4.40
Figures from Clean Energy Council. Shading, clouds, dust and pollution will reduce output.