Upgrade, expand or repair a solar system.
With many years of experience, we are well placed to advise on repairs and upgrades.
1. If your existing inverter has remaining capacity
If you originally bought a solar system, and the inverter capacity is larger than the output of the solar panels, then you can add matching solar panels to your existing system.

Eg. Original purchase – 1.5 kw of panels with a 3 kw inverter,  you can add panels to the maximum 3 kw capacity of the inverter.
We are experts at matching up existing solar panels, with new ones similar to those of your original purchase. 
You must be sure that the string voltages of the old and the new sections perfectly match, and the inverter specifications are not exceeded.

Also be aware that, as regulations have changed, some of the originally supplied components may have to be replaced during an upgade, for the system to be compliant with new rules.
All switches, earthing and original electrical wiring must conform to the latest safety codes, if any upgrade work is performed.
Our experienced electricians and salespeople will be able to advise you on what you will need, and the likely cost.
2. If your existing inverter is already up to its full capacity
If your original solar system is up to capacity, there are two choices – upgrade the inverter and add more panels, or simply install a second solar power system.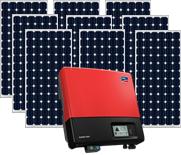 Contact us for more information regarding your specific system.
In most cases our sales consultant will need to inspect and evaluate your present solar system, and your end requirements, before you can place an order.   We specialise in thorough examination, and correct assessments, at no additional cost to you.
CAUTION –  BE AWARE OF THIS.

Increasing the size of an existing solar power system can reduce or eliminate the benefits being enjoyed with the current feed-in arrangement.
Often it is now economical to install a separate stand-alone solar power system with batteries, to feed specific circuits.  eg. pool filter system, tv, lights or refrigerator.   Installation of a three-way switch will allow connection back to the grid in unforseen circumstances.
Call us for advice on what you can do.

Ask about your upgrade options