GoodWe Solar Inverters
NS Series
  Single-Phase Single-MPPT – 1.5 kw to 3kw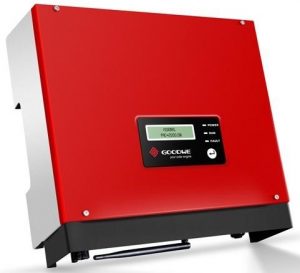 GoodWe NS series inverter has adopted cutting-edge technology in the photovoltaic inverter field, designed using modern industrial concepts.    Inheriting all the excellent traits from GoodWe SS and DS series, the NS series is smaller, lighter, and more efficient.
The Goodwe GW series are transformerless, single-phase inverters.
Sizes from 1kw through to 3kw
They operate without a fan, with housings featuring IP 65 protection, and a very wide temperature range.
They can be installed at practically any location the user likes, and the display and communication options are good.
The efficiency is at a consistently high level; its power loss is quite low, and the MPPT voltage has very little impact on it.
Goodwe NS model
1000
1500
2000
2500
3000
4200
5000
Max.allowed PV Power(W)
1300
1950
2600
3250
3900
5460
6500
DC power rating (W)
1200
1800
2300
2700
3200
4600
5500
Max. DC voltage(V)
450
500
500
MPPT voltage range (V)
80~400
80~450
80~450
Starting voltage (V)
80
Max. DC current (A)
10
18
No. of PV connectors
1
1
1
No. of MPPTs
1
Max. AC power (W)
1000
1500
2000
2500
3000
4200
5000
Max. AC current (A)
5
7.5
10
12.5
13.5
Dimensions (WxHxD)
344 x 274.5 x 128mm
Weight (kg)
7.5
8.5
GoodWe-NS-series specifications
D-NS Series
 Single-phase, Dual MPPT for installing two different sets of solar panels – 3kw – 5 kw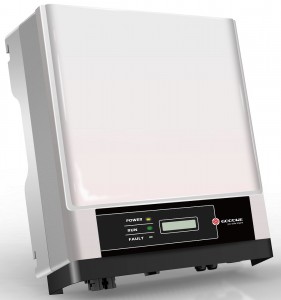 GoodWe D-NS inverter series come in 3kW, 3.6kW, 4.2kW and 5kW options.
With low start-up voltage of only 120V and the widest voltage range of 80 – 550V, these inverters are built for complex installations and give your solar installation/designer greater installation options for your system.    The GoodWe D-NS series is also extremely light – weighing in at just 14kgs they are 30% lighter than other inverters.    Furthermore, with optional Wi-Fi and a 97.8% max efficiency, the GoodWe inverter has been a popular solar inverter in Australia.
While this is one of the best-priced inverters on the market, you may be surprised at the quality of the workmanship and components which are immediately recognisable as quality components from the top electronic manufacturers in the world.
GW3000D-NS
GW3600D-NS
GW4200D-NS
GW5000D-NS
Max.allowed PV Power(W)
3900
4680
5460
6500
DC power rating (W)
3300
3960
4600
5500
Max. DC voltage(V)
580
MPPT voltage range (V)
80~550
125~550
Starting voltage (V)
120
Max. DC current (A)
22
22
22
No. of PV connectors
2 sets
No. of MPPTs
2
2
2
2
Max. AC power (W)
3000
3680
4200
5000
Max. AC current (A)
13.6
16
19
22.8
Dimensions (WxHxD)
347 x 432 x 145mm
Weight (kg)
14
GoodWe D-NS-series specifications here
The housing complies with protection type IP 65.    The device features a very broad temperature range, which can also be fully utilized, as the reduction in power – which according to specs, occurs at ambient temperatures of 45° C or more – did not materialize at all during testing.  Even conversion efficiency only fell by 0.3 percentage points.   The GoodWe can be installed both indoors and outdoors in warm locations.  Because its cooling system does not feature a fan, it is also relatively impervious to dust.
The efficiency curve only exhibits a very low dependency on the MPPT voltage, and reaches a peak value of 97.8 percent.  Because the efficiency declines very little over virtually the entire operating range, the GW4000-SS has attained a PHOTON efficiency of 96.9 percent for medium irradiation and 97.1 percent for high irradiation.    This translates into two »A« grades and lands the company a place among the top 10 inverters tested so far in the power class of up to 5 kW.
DT series
  3-phase inverters for commercial applications – 10-25 kW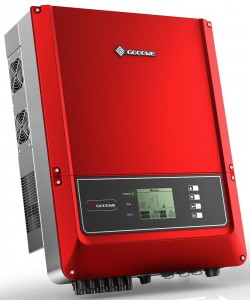 GoodWe DT series inverters adopt cutting-edge technology in photovoltaic fields.
Higher conversion efficiency and lower energy losses are guaranteed to maximize customer satisfaction.
With its reliable power grid support management and high protective class, the DT series is compatible with different types of branded solar panels and is also ideal for commercial rooftop systems.   This safe and reliable series is the first choice for residential, commercial installations and power plants.
Hybrid Solar ES5048 5kw Inverter
  True hybrid in one package – battery back-up included.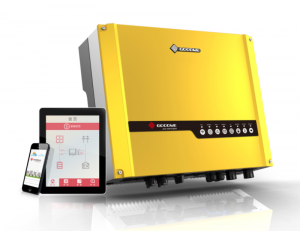 A wonderful and economic choice for those wanting a reliable battery back-up solar system, and a reliable grid-connected inverter in one.   
Supplies up to 4.6 kw to the back-up loads directly from the batteries, with or without the grid operating.  
Install up to 5.5 kw of solar panels to run the house, charge your batteries, and export the rest, in that order.  
At nightfall, the house runs from the batteries first, to save buying power from the grid, and then the batteries are recharged from your solar panels the next day.    For excessive loads on the batteries, the grid will supplement the battery power.   
The system is capable of having switched loads, and grid-only loads, so you can decide how you want to run your household power supply.

Customers have acclaimed the benefits they have seen from installing this system.  Comes complete with wifi, so you can check what is happening at any time on your smart phone app, or via a modem and the internet.
BP Series 
 Convert any existing solar power system to a battery back-up solar system.
The GoodWe BP series DC-coupled battery storage retrofit device is compatible with most single phase on grid inverters.   Almost any existing solar power system can be upgraded to a solar energy storage system, with the addition of the BP retrofit device.    During daytime, the solar power system generates electricity which is firstly provided to the loads.    Then any excess energy will charge the battery via the BP retrofit device.   During the night, the battery discharges via the BP retrofit device, and electricity will be provided to the loads via the existing inverter.   The GoodWe BP series greatly improves the self consumption ratio of your solar power system.
The BP Series from GoodWe is a retrofit battery management system which offers PV plant owners the opportunity to integrate a battery storage solution to their existing installation.
Compatible with most brands of single phase on-grid inverters, the BP Series intelligently manages the PV yield of a system allowing generated electricity to be directed within the home, fed to the grid or used to charge battery storage devices.
Electricity stored within batteries can be released when domestic loads are high but PV generation is not possible, helping to synchronise energy production and consumption.
The BP Series offers installers the opportunity to improve existing PV systems for customers with the prospect of increase self-consumptions and reduced reliance on grid supplied electricity.
Key Features:
Retrofit system which is compatible with most current grid-interactive installations
Intelligent battery management function
Compatible with both Lead-Acid and Lithium-Ion battery storage devices
Optimised energy usage through increased self-consumption
Monitor performance through GoodWe EzViewer
Technical Data:
Max. DC Input : 6000W
Max. Input Voltage : 600V
Rated Power : 2500W
Rated Output Voltage : 360V
Battery Type : Lead-Acid or Li-Ion
Nominal Battery Voltage : 48V
Max. Discharge Power : 2500W
Max. Battery Charge Power : 2500W
Charging Curve : 3-Stage Adaptive with Maintenance
Max. Charge / Discharge Efficiency : 96.0% / >96.5%
Protection : IP65
Dimensions : 344x275x128mm
DC Terminal : MC4
Warranty : 5 years
GoodWe internet and wifi communications details here.
GoodWe 5 year Warranty information and warranty extension.
Order now, or ask a question:
Queensland:    (07) 5448 8304      qld at solazone.com.au
Victoria:            (03) 9808 7337      vic at solazone.com.au
or use this form: