SunXtender AGM Batteries

Sealed Absorbent Glass Mat (AGM) battery technology –
the electrolyte remains liquid and is absorbed in a micro fibrous glass mat.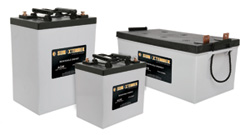 The Sun-Xtender range of batteries have been developed especially for use in solar and wind applications, where long life, deep cycling, low internal resistance, superior charge acceptance and energy density are required.
Unlike the Gel type batteries which have a highly viscous silica gel electrolyte mixture, SUN-XTENDER batteries outperform gel batteries by reducing the time required for recharging.   This is a result of reduced electrolyte viscosity resulting in faster gas recombination.
By design, the SUN-XTENDER produce less than 1% hydrogen gas under extreme overcharge conditions at elevated temperatures.
For flammability, a concentration of at least 4.1% is required, making these batteries ideal for use in confined applications or equipment enclosures.
Additionally, the tightly packed plate construction provides a very high degree of shock and vibration resistance, making the product ideal for mobile applications.
Features:
Copper alloy terminals for improved electrical connections.
Threaded insert terminals are recessed to prevent short circuits.
Flat top design with no protruding vents.
Reinforced container walls to prevent bulging.
High impact strength polypropylene case.
Completely sealed, valve regulated construction.
Non-spillable, immobilised electrolyte.
Maintenance free – never needs watering.
AGM separators retain electrolyte and allow the battery to be mounted on its side.
Low self discharge rate – approx 1% per month.
Operates over a wide temperature range (- 40 degC to 72 degC).
Classified as a "non-spillable battery" for transportation.
Yes, we generally have stock, or can get it for you straight away.
Model

Volts

Capacity
A/hr @ C100

Weight

Dimensions
L x W x H mm

PVX-340T
12 volt
38 Ahr
11 kg
196 x 132 x 175
PVX-690T
12 volt
77 Ahr
22.7 kg
260 x 172 x 277
PVX-890T
12 volt
100 Ahr
27.7 kg
328 x 172 x 228
PVX-1040T
12 volt
118 Ahr
29.5 kg
306 x 172 x 227
PVX-2120L
12 volt
250 Ahr
61.2 kg
528 x 222 x 266
PVX-2240T
6 volt
260 Ahr
30.0 kg
261 x 181 x 260
PVX-5340T
2 volt
612 Ahr
28.2 kg
328 x 171 x 228
PVX-6480T
2 volt
756 Ahr
31.8 kg
328 x 171 x 228
Fast delivery to anywhere in Australia.
The Sun Xtender carries a one year full replacement warranty (from date of installation)
For fast delivery to anywhere in Australia, leave your requirements here.