Exide Energystore Batteries
Heavy duty tubular positive plate batteries that are made in Germany, and assembled in Australia. They have an excellent cycle life. They come in their own non-conducting polyethylene outer containers, and don't require any separate battery spill trays.
Our experience with these batteries has been that they are terrific batteries that stand up well to transportation to remote sites, and the tough Australian outback conditions.   We have been installing these batteries as our preferred choice for many years now.
The Energystore battery from Exide Technologies has a proven track record in Australian RAPS. It has been performing in remote and harsh areas of Australia for over 20 years. That's because it is designed and assembled in Australia specifically for our unique conditions.
Features:
Available in 4 volt, 6 volt and 8 volt batteries in trays, with capacities up to 2200Ah.
Excellent cycle life: 1500 cycles to 80% Depth Of Discharge.
(2500 cycles to 505 DOD, 3300 cycles to 30% DOD, 4500 cycles to 10% DOD)
Large electrolyte reservoir – less frequent maintenance.
Electrolyte level indicator included on each cell.
Robust tubular positive plates.
Leak-proof non-conducting polyethylene outer tray.
Easy to transport and assemble.
Long life and low maintenance.
Excellent prices.
Optional automated/manual single point watering system, available at extra cost.
Optional lid, for protection from the elements, at an extra cost.
Ideally suited for, and well used in solar, wind, micro-hydro, diesel and hybrid applications.
 Specifications
Model

Voltage

Capacity
A/hr @ C100

Dimensions
L x W x H mm

Weight

8RP670
8 volt
670 Ahr
528 x 260 x 570
100 kg
6RP830
6 volt
830 Ahr
528 x 260 x 570
110 kg
6RP1080
6 volt
1080 Ahr
528 x 260 x 570
143 kg
4RP1330
4 volt
1330 Ahr
370 x 308 x 670
120 kg
4RP1600
4 volt
1600 Ahr
370 x 308 x 670
140 kg
4RP1800
4 volt
1800 Ahr
370 x 308 x 670
160 kg
4RP1950
4 volt
1950 Ahr
450 x 308 x 800
160 kg
4RP2200
4 volt
2200 Ahr
450 x 308 x 800
180 kg
All links, bolts, safety covers and safety signage are included.
Energystore Gel Batteries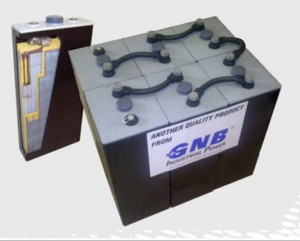 The Sonnenschein Dryfit EPzV series is developed specifically for applications where cycling is required. It has exceptional value in addition to robust reliability, This range is the ideal energy source for medium to large residential homes, industrial solar systems, holiday and weekend houses, wind power stations, as well as for other safety equipment power supplies.
Maintenance-free, valve-regulated battery technology, electrolyte is fixed in a gel
Maintenance-free, no topping up during the entire service life of the battery
No contamination or corrosion due to liquid electrolyte
Very low self-discharge
Recycleable

Leave details here for the best delivered prices.