Sonnenschein Solar Block Batteries
The Sonnenschein Solar Bloc battery range is powerful and reliable in rough application conditions.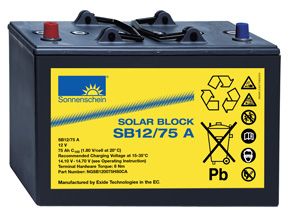 As well as for use in private areas like holiday and weekend houses with more consumer terminals, this range is the ideal energy source for medium industrial solar systems, small solar and wind power stations, offshore buoys, yachts and measuring stations as well as for other safety equipment power supplies
Applications
Caravans and campers
Remote home areas
Marine
Golf carts
Wheelchairs and scooters.
Features
Start-up power
Continuous power supply
Solar energy storage
No acid-level checks
No water needs to be added
Maintenance free
Valve regulated
Warranty
12 Months for normal power system operation
Properties
Nominal capacity: 60–330 Ah @ 20°C
Grid plate
1200 cycles acc. to IEC 896-2
Block battery
Valve regulated lead-acid batteries
Maintenance-free (no topping-up)
Proof against deep discharge
Recyclable
The Sonnenschein SOLAR BLOCK battery range with the successful dryfit technology is proven to be powerful and reliable in rough application conditions.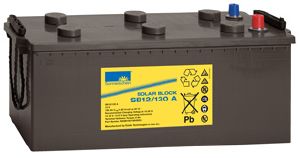 Specifications
Needing a delivered price?   Request a free quotation now.