Latronics 5 stage intelligent battery charger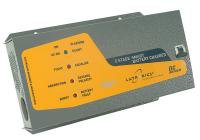 Latronics fully automatic battery charger is suitable for most charging applications. The microprocessor controlled intelligent charger has 2 major benefits compared with conventional chargers.
Accurate 5 stage charging allows maximum charge into your batteries to minimize charge time, while additional sensitive charging cycles protect your investment by extending battery life.
Higher efficiency with synchronous rectification, instead of using standard diodes in the rectification process, low loss Mosfets are used to minimize internal losses. This wasted energy would normally be dissipated as heat, however, with synchronous rectification your charger runs cooler and requires less power to operate.
Model
DC-1230
DC-2415
Nominal DC Voltage
12V
24V
Charge Current Continuous
30A
15A
Equivalent RMS Current
45A
22A
Boost Voltage
13.9 – 15.2V
27.8-30.4
Absorb Voltage
13.9 – 15.2V
27.8-30.4
Float Voltage
13.0 – 14.0V
26.0-28.0
Equalise Voltage
14.8 – 15.4V
29.6-30.8
Input Voltage
240Vac +/- 5%
Input Frequency
45 – 65 Hz
Operating Temperature
-10ºC to +50ºC
DC to AC Isolation
3500V
Battery Leads
1m long with 10mm mounting lugs
Protection Circuitry
Over temperature, overload/short-circuit, reverse polarity
Dimensions
260 mm x 160 mm x 100 mm
Chassis
Powder coated aluminium
Warranty
2 years
Standards
AS/NZS 60335.1, AS/NZS 60335.2.29, AS3100, EN55014 & C-tick
Weight
5kg
Prices May 2014
$780 for 12 or 24 volt model
Ratings @ 25 deg. nominal battery voltage and unity power factor
Due to constant improvements specifications are subject to change without prior notice.
ORDER NOW – DELIVERED TO YOU ANYWHERE IN AUSTRALIA