Outback FlexMax FM80 & FM60

FLEXmax FM80 charge controllers are the latest innovation in Maximum Power Point Tracking (MPPT) charge controllers from OutBack Power Systems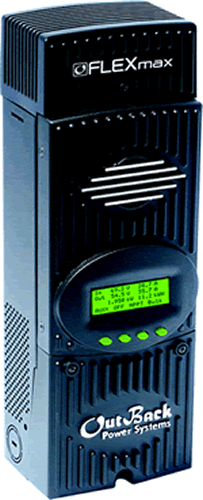 The innovative FLEXmax MPPT software in the FLEXmax FM60 is both continuous and active, increasing your photovoltaic array power yield up to 30% compared to non-MPPT controllers. Thanks to active cooling and intelligent thermal management cooling, the FLEXmax FM80 charge controllers can operate at their full maximum current rating of 80 Amps, in ambient temperatures as high as 40°C.
Included in the Outback FM80 Charge Controllers are the revolutionary features first developed by OutBack Power, including support for a wide range of nominal battery voltages and the ability to step-down a higher voltage solar array to recharge a lower voltage battery bank. You can wire your array up to 60 volts and feed a 12, 24, 36 or 48 volt battery bank.
A built-in, backlit 80 character display shows the current status and logged system performance data for the last 128 days at the touch of a button. The integrated OutBack network communications allows the FM80 Charge Controllers to be remotely programmed and monitored via a MATE system display and provides unrivaled complete system integration. FM80 Charge Controllers are the only choice when you demand a high performance, efficient and versatile charge controller for your advanced power system.
Outback FM80 Specifications:
>> Battery Voltages: 12, 24, 36, 48, or 60 VDC (Single model – selectable via field programming at start-up)
>> Maximum Output Current: 80 amps @ 104° F (40°C) with adjustable current limit
>> Maximum Solar Array power: 12 VDC systems 1250 watts, 24 VDC systems 2500 watts, 48 VDC systems 3600 watts, 60 VDC systems 6250 watts
>> PV Open Circuit Voltage (Voc): 150 VDC absolute maximum coldest conditions, 145 VDC start-up and operating maximum
>> Standby Power Consumption: Less that 1 Watt typical
>> Power Conversion Efficency: 97.5% @ 80 Amps in at 48 VDC System voltage
>> Typical Charging Regulation: Five Stages: Bulk, Absorption, Float, Silent and Equalization
>> Voltage Regulation Set points: 10 to 60 VDC user adjustable with password protection
>> Equalization Charging: Programmable Voltage Setpoint and Duration – Automatic Termination when completed
>> Battery Temperature Compensation: Automatic with optional RTS installed
>> Voltage Step-Down Capability : Can charge a lower voltage battery from a higher voltage PV array – Max 150 VDC input
>> Status Display : 3.1″ (8 cm) backlit LCD screen – 4 lines with 80 alphanumeric characters
>> Remote Display and Controller :Optional Mate or Mate2 with RS232 Serial Communications Port
>> Network Cabling : Proprietary network system using RJ 45 Modular Connectors with CAT 5e cable
>> Data Logging : Last 128 days of Operation – Amp Hours, Watt Hours, Time in Float , Peak Watts, Amps, Solar Array Voltage, Max Battery Voltage, Min Battery Voltage and Absorb for each day, along with total Accumulated Amp Hours, and kW Hours of production
>> Warranty: Standard 5 year
>> Weight 5.5 kg Shipping Weight 7.2 kg
>> Dimensions: 343mm x 146mm x 101mm (H x W x D)
Remote Temperature Sensor (RTS)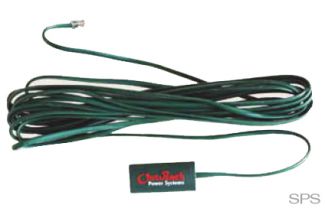 Works with all OutBack inverters and the FlexMax charge controllers. Not compatible with Trace inverters. Includes 15 FT (5M) cable.
The OutBack Remote Temperature Sensor (RTS) is a necessary tool for proper battery charging. All OutBack products with integrated battery charging have a temperature compensation system built in which benefits from the installation of the RTS (included with inverter/chargers). The RTS ensures that your OutBack system knows the precise battery temperature so that it can recharge your batteries safely and efficiently. Systems with multiple OutBack products connected to one HUB4 or HUB10 require only a single RTS to be installed.
Remote Display options : MATE, MATE 2
For one or more FX, VFX and/or MX60. Four line 80 character LCD display with backlight. RS232 port for PC connection (software not included). Wall surface mount with 3′ and 50′ catV cable included.
Highly recommended for any OutBack inverter system for setpoint adjustment and monitoring. Plugs into the Stack-2 or Stack-4 or Hub-4 or Hub-10 for stacked inverters. We recommend the Hub over the Stack so all inverters can be monitored without unplugging cables (the Stack-2 and Stack-4 require the Mate be plugged into separate ports for each inverter successively).
Can be located up to 1000 feet away from inverter or MX. Only one Mate at a time can monitor a system via the hub, although that should change with future firmware.
Other options : HUB 4, HUB 10
Available:
Flexmax FM 80
Flexmax FM 60
Remote Temperature Sensor (RTS)
Mate LCD display with backlight
Hub 4
Hub 10
Ask for a free quote at any time.