TOPSUN SOLAR PANELS
This is the one and only 400 watt commercial-grade super panel. Designed and made for industrial projects – It's the biggest and toughest solar panel made.
Absolutely highest quality cells & laminate backing, with tough box-section aluminium frame and quality surface treatment, 4mm (thickest in the industry) toughened glass and quality junction box and MC4 leads.
And – how's this ? The leads even come with protective plastic plugs on the ends !
Nominal power [Wp] Pmpp 400
Voltage at nominal power Vmpp 49.80 volts
Current at nominal power Impp 8.03 amps
Open-circuit voltage Voc 60.00 volts
Short-circuit current Isc 8.56 amps
Module efficiency level 15.6 %
Output tolerance – 0% to +2 %
* Performance under standard test conditions (STC) : 1000W/m2, 25'C, AM 1.5

* Mechanical load at 5400 Pa/550kg has been performed.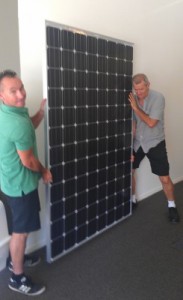 Model
Monocrystalline 3 busbar [96 cells]
TS-S400
TS-S405
TS-S410
Power Output (Wp)
400
405
410
Max Voltage (V)
48.02
48.28
48.41
Max Current (A)
8.33
8.39
8.47
Open Circuit Voltage (V)
59.85
60.19
60.32
Short Circuit Current (A)
8.8
8.86
8.95
Efficiency (%)
15.60
15.80
15.99
Tolerance (%)
– 0% to + 2%
Size (mm)
1,960 x 1,308 x 40
Weight (kg)
35.5
Data sheets
Download
400Wp
Download
405Wp
Download
410Wp
Prices
$689
$699
n / a
REQUEST YOUR FREE SITE ASSESSMENT & QUOTATION NOW