Flopower Transfer pumps
Flopower transfer pumps are ideal for caravans, boats, motorhomes and camping, also good for showers and taps in solar powered houses, for washdown hoses, and for transferring water from dams and tanks.
Suitable with fresh water or salt water – ideal for deckwash, or a toilet or shower. They all come with two sets of fittings – hose barbs and threaded for pipes, and also a filter. Four different models available – to suit your flow requirements and system voltage.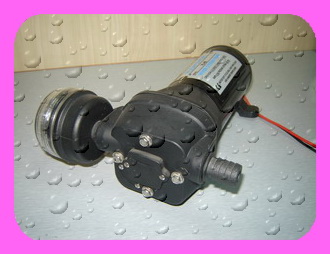 Very good water Pressure Pumps – can be self-priming
These diaphragm pressure pumps are ideal for use in any area that requires water transfer. Easy to operate and self priming, they will give years of reliable service. Twelve months warranty, and service parts available for the long term. With inbuilt pressure switch, these pumps can automatically turn on and off when you turn the tap on and off. Can either be run from a battery bank, or directly from solar panels to fill a water trough for animals.
Product Features
Lightweight and made from non corroding materials
Self priming
Run dry Protection
Easy to install
No maintenance
Simple to operate
Low power consumption
12 months warranty
Automatically turns on and off
Includes fittings and filter
Specifications
12 volt and 24 volt models
7 amp draw on startup
3.9 amps when running
Maximum capacity 12.5 L/Min
Maximum pressure 35 PSI
Inlet and Outlet are 1/2 inch
Fittings are one straight barbed, one 90 degree barbed and one straight BSP
Dimensions 210 (L) x 110 (W), or 170mm with filter x 100 (H)
Weight 1.85 kg
Can use with a 3 to 20 litre accumulator tank
Open flow is 17 litres per minute
Quiet operation and smooth flow
Runs dry without harm to the pump
Includes plug-in ports for easy installation options
Fittings: Comes with two 3/4″ straight hose barbs & two 1/2″ BSP elbows.
Complete with strainer (included) to protect pump from debris.
Asssembly Diagram

1 motor
2 Screw
3 dowel pin
4 Connection board
5 Oscillating board
6 Pump front cover
7 diaphragm
8 piston
9 Cavity body
10 O-ring
11 Seal plug
12 Easy Connector
13 Pump body
14 Washer
15 Screw Ⅱ
Models that we stock
Models
Volts
Maximum Flow
Maximum height
PressureOff
Amp Draw
Strainer
Prices
l / m
m
psi
amp
March 2016
FL-12512
12 volt
12.5
35
7
Yes
$160
FL-1712
12 volt
17
40
10
Yes
$180
FL-1724
24 volt
17
40
5
Yes
$180
FL-30012
12 volt
60
13
Yes
$260