Solar hot water circulation pumps
---
Solar Hot Water Recirculation:
Grundfos: UP15-14B: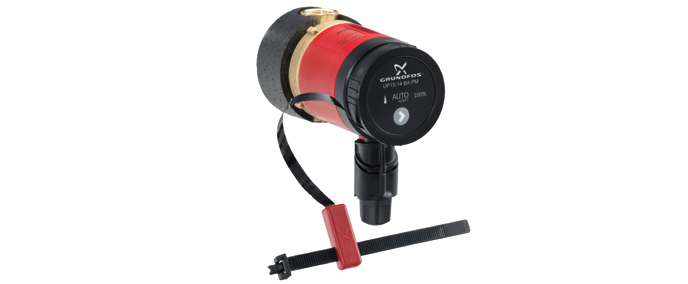 Grundfos UP15-14B ensures that there is always water heated when the sun's heat is available, and helps to prevent water wastage.
The Grundfos pump uses the cold water supply line as it's "feed" to pump water to the solar collectors. The Grundfos UP15-14B pump is used to create a pressure differential that allows the coldest water in the hot water tank to pass (at low volume) into the bottom of the solar collectors, to get heated from the sun, before returning to the hot water tank.
Easy installation

Low-cost solar hot water

No waste of precious drinking water!

Energy effective pump
Price: $280
---
Grundfos:UPS20-60N: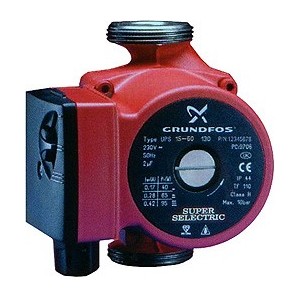 In-line circulator pumps for solar hot water, with stainless steel pump housing. UPS can be operated at three speeds, union sets 1″ female. Ideal for solar and also underfloor heating systems, as fluids may sometimes become aerated, causing an ordinary cast iron pump to corrode.
Price: $428
---
Grundfos: UP20-45N: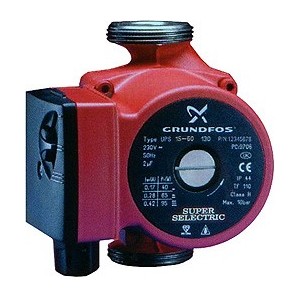 In-line circulator pumps for solar hot water. Stainless Steel body, 20mm female connections, 4.5m maximum head. This circulator pump has a stainless steel pump housing, can be operated at three speeds, and has union set 20mm. For solar and underfloor heating systems as fluid may often become aerated, causing an ordinary cast iron pump to corrode. Especially designed for hot water, the UP20-45N model can also be used with chilled water, from 5c. No Risk to water quality thanks to the main components being stainless steel
Interchangeable with commonly installed bronze models
Price: $455
---
12 volt dc circulator pumps
Seal-less, leakproof magnetic drive.
Quiet operation.
Extremely low power consumption.
---
Features:
Shaftless spherical pump design – the only moving part in the pump cavity is the rotor / impeller unit. Eliminates start-up problem
Rotor / impeller glides effortlessly on ultra-hard ceramic ball – minimal bearing surface lowers starting torque requirements and improves motor efficiency. Very low energy consumption.
Modular construction. Standard screw ring construction allows switching motor without changing pump housing.
Virtually maintenance-free – Self lubricating, dependable operation.
No shafts or seals in the fluid side to leak or corrode.
Clog-resistant – rotor / impeller automatically tilts to allow small particles to pass freely through pump cavity.
Typical applications:
Cold or hot water circulation in homes, boats, RV's, or industrial transfer.
Fish tank circulation.
PV-powered solar applications.
Process control applications.
Laboratory services.
Technical Data
Motor design: Electronically commutated, spherical motor
Voltage Range: 6 to 24 volts dc
Maximum system pressure: 150 psi
Temperature range: -10°C to 95°C
Suitable for: Domestic hot water, heating water, water/glycol mixtures and other media.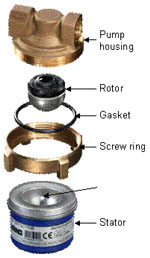 Servicing the pump is easy with the unique screw ring construction.
A twist of the screw ring separates the rotor/impeller and motor-drive unit from the pump housing.
The rotor / impeller unit is free to spin and tilt, to allow small particles to pass through the system without jamming the pump.
The Laing mag-coupled spherical motor design offers many benefits over other pump styles: it operates on extremely low input at a specified nominal voltage up to 24 volts; the spherical permanent magnet eliminates impellor slippage; the motor does not have a shaft is fully potted and has no moving parts; the pump has no seals; and both the drive and motor magnets have thick cross-sections that resist cracking due to thermal shock.
The brushless motor has a lifetime of 10,000 hours when operated at 12 volts and can be powered directly by solar panels, battery or other dc power sources. The unique screw ring design for this series of pumps allows the changing of motors without changing pump housings.
Price: $345