Volunteer installing in the Philippines
Are you a solar installer?
Would you like to experience installing solar systems in a different country?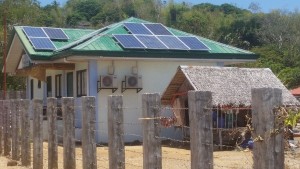 Limited places for qualified solar installers to participate on projects in the Philippines, as volunteers.
Live and work with local filipino installers, enjoy the foods and drinks, and participate in local life for the duration of your trip.
Learn to speak the language, experience a friendly, happy culture, and the third world electricity conditions!
It will challenge your existing values, and this is definitely NOT for those seeking 5-star living.
Enjoy a unique, once in a lifetime, experience.   See wonderful, pristine places.
Participation levy includes all airfares, transfers, meals, accommodation and local transport.
Just bring yourself, ready for adventure, and a little spending money.
Selected applicants only, for specific projects, in rural and regional Philippines.
Proceeds of these projects assist the education costs of needy students in the Philippines.
Request an application form here: