X2000 Horizontal Wind Turbine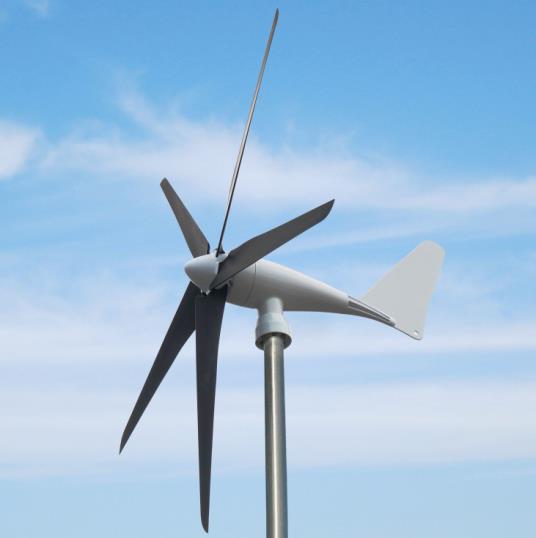 The X2000 wind turbine system is the best small wind generator system available in the world.
Simple to install, super-quiet, low start-up-speed, and high-output, together with the adaptation of European advanced technologies and design, makes it the best performing wind generator system in the world.
The unique technology:
Integrating several forward-thinking ideas into one machine, which is easy to install, affordable and maximizes energy production.
– Leading-edge high-output dual-bearing permanent magnet alternator,
– Carbon-filled rotor blades, which have been optimized for high torque, low rotational inertia, and exceptionally quiet output.
– World-class aerodynamic efficiency
– Double Security System
– Exceptionally low yaw-error
1. Generator
The Neodymium Iron Boron permanent magnet rotor uses patented technology licensed from Sumitomo/Hitachi in Japan. A low-friction, high-energy-density 3-phase rare-earth magnet rotor design, which came from concepts and materials used in leading-edge green-energy vehicle research.
Having two bearings allows the wind turbine to start faster than a single bearing wind turbine. Thanks to this technology you can start producing energy at wind speeds as low as 1.5 m/s. the Double bearing system also has the advantage of reducing vibration.
2. Blades
Carbon fibre filled blades, whose design adopts the idea from biomimicry, and leads to a significant reduction in weight and tip deflection, with direct effect on the rotational inertia, aerodynamic performance and energy capture efficiency of the blades. This makes for super-quiet performance while improving overall aerodynamic power. The blade and tail design focuses on several key strategies:
– Low Start-up Speeds
– Very Low Rotational Inertia
– Very Low Noise at Optimum Tip Speeds
– Very Low Yaw Error
– Flexible twist under strong gusts (see pic on right)
Specifications:
Complete 1500W Wind System (includes generator and controller) 1900mm Blade Diameter (1.9M)
Light weight 24.5kg
30% Carbon Polymer Blades
Super-silent (32dB at 5M at 5 m/s )
3-Phase dual-bearing AC rotor generator
Neodymium Iron Boron (Nd2Fe14B) permanent magnet synchronous design
Available in 24V or 48V or 108V designs; available off grid systems and grid tie systems
2.5m/s cut-in speed (Lowest start-up speed for 1500W)
Over and Under-charge protection
Integrated slip-ring allowing continued >360° rotation
60mm tubing or according to customer request
Simple installation, and user-serviceable components
Fully compatible with existing solar installations
Double epoxy powder painting
5-year warranty
| | |
| --- | --- |
| Model | X-2000 |
| Rated Power | 1500W |
| Max Power | 2000w |
| Start-up Wind Speed | 1.8m/s |
| Rated Wind Speed | 13m/s |
| Survival Wind Speed | 50m/s |
| Output Voltage | 48V/96V/108V DC , grid tie 110V DC |
| Working Wind Speed | 1.8-30 m/s |
| Rotor Diameter | 1.9 m |
| Material of Blades | Carbon Fiber Composite |
| Quantity of Blades | 5 pcs |
| Speed Regulation | Automatically adjust the windward angle |
| Stop Method | Manual & electromagnetic brake |
| Range of Working Temperature | -45℃-60℃ |
| Suggested Battery | 12V 150AH |
| Top Weight | 24.5 kg |
| Tower Type | Guy cable or free standing pole /6m |
---
Deliver to anywhere in Australia, New Zealand, Philippines or Pacific.