AP Systems microinverters
The YC500-EU-SAA is the latest technology microinverter from APsystems (formerly APS) and is designed to connect to two solar modules. By installing one inverter per 2 modules the number of devices and connections required per installation are halved and the overall cost of the system reduced. The YC500 is compatible with most 60 and 72 cell solar modules. Up to 9 YC500's (18 solar modules) can be installed on a single 25A circuit.
The YC500 provides individual module maximum power point tracking and is very easy and quick to install. If a system has an odd number of solar modules, one or more YC250's can be installed in conjunction with the YC500s as they are fully compatible with each other and with the Energy Control Unit (ECU).
The YC500 features a standard 10 year and optional 25 year manufacturer's warranty.
Offering an unprecedented 300VA peak output power per channel, the YC600 works with 60 and 72-cell PV modules and offers dual, independent MPPT per panel. The unit operates within a wider MPPT voltage range than competing brands for a greater energy harvest and boasts a durable, NEMA 6/IP67, powder-coated aluminum enclosure, bucking today's trend of plastic casings.
"Integrating smart grid-interactive capability, reactive power control and Rule 21 support functionality into a dual-module microinverter while still maintaining independent MPPT per channel is a groundbreaking achievement in microinverter technology," said Olivier Jacques, executive vice president, USA and EMEA. "We've significantly raised the bar with this product."
The YC600 builds on the successful APsystems line of multi-module microinverters, simplifying installation and reducing logistics costs. The unit features both integrated ground and DC connectors for fast, hassle-free installation and maintains inherent compliance to NEC 690.12 Rapid Shutdown code requirements. An integrated ZigBee antenna offers broadband communication over a mesh network for fast, accurate data monitoring.
"The demands on today's power conversion systems require that manufacturers not only bring cutting-edge concepts into existence, but also include the complex capabilities of successful previous generations, all while accommodating both current and new compliance standards," said Dr. Yuhao Luo, APsystems' chief technology officer. "The YC600 includes dozens of new and advanced features and functions that outclass competing products. And then we added free monitoring."   (AVAILABLE LATE DECEMBER 2017)
Product Description   (NO LONGER COMPLIANT WITH AUSTRALIAN REGS)
Our flagship microinverter, the bestselling YC500 microinverter handles two PV modules simultaneously with dual MPPT. Up to 14 solar modules (7x YC500s) can be installed in a string with a single 20A breaker.
Maximum Power Output: 500W (from two solar modules)
Individual MPPT for each panel
Peak Efficiency: 95.5%
Dimensions: 8.6″ (220mm) x 5.4″ (160mm) x 1.37″ (29mm)
Weight: 5.5 lbs. (2.5kg)
Up to 14 solar modules (7x YC500s) in a string with a 20A breaker
10 and 25 year warranties available
Designed to operate in challenging real-world conditions from -40 F to 149 F.
AP systems Energy Control Unit (ECU)
The APsystems (formerly APS) ECU-3 Energy Control Unit is the internet gateway device that communicates with each APsystems microinverter and downloads system data to the internet.   The installation of an ECU is not essential for an APsystems installation, however you do need to install one if you want access to real time and historical system data via the internet.    The standard ECU provides access to aggregated system level data.  Access to module level data is available at additional cost.
The APS-ECU is the information gateway for APS inverters. This internet ready
data logger is able to communicate with every kind of APS interactive inverter
available and provides the latest in system monitoring for your PV plant. The
APS-ECU contains an integrated HTTP web server to allow the simplest and
most flexible network integration of any data logger currently on the market.
The user-friendly browser based interface provides you system level access in
moments. Several configuration options ensure that any APS inverter system,
regardless of the number of inverters, remoteness of the plant or internet
connection type, can be used with the APS-ECU.
Replacement Energy Control Units are available ex-stock $348 (October 2017)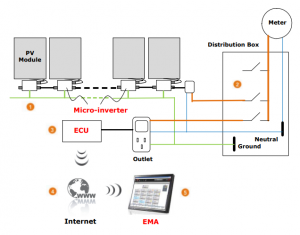 Order now, or ask a question:
Queensland:    (07) 5448 8304      qld at solazone.com.au
Victoria:            (03) 9808 7337      vic at solazone.com.au
or use this form: