Nature Loo Compost Toilets
The most environmentally-friendly composting toilet system, with quality assured performance.
The NatureLoo compost toilet is free of odours, chemicals, pollution, pumps, high maintenance, and electrical costs. It also saves the typical family about 35,000 litres of water per year.
Nature Loo has provided domestic waste solutions since 1994.
Classic 750 – the most popular – reliable and easy to use.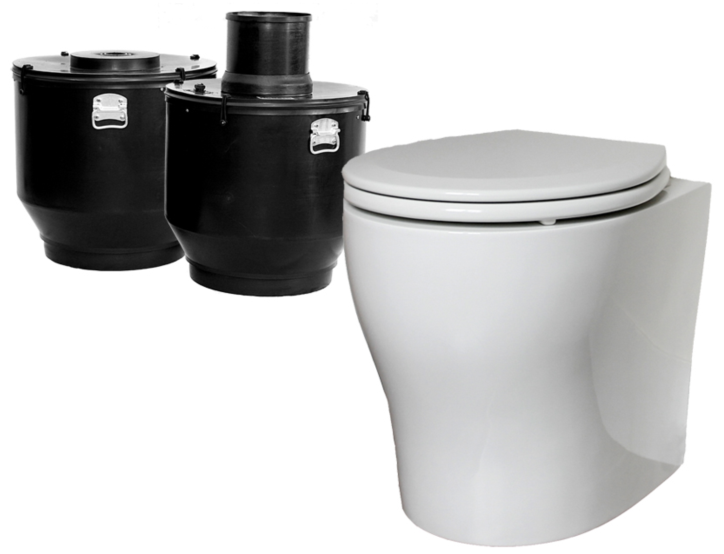 The Classic 750 is the standard batch system toilet for domestic installations. Since its development in 1992 thousands have been sold all over Australia.
Its strengths are its small underfloor space requirements, simplicity, minimum maintenance and unlimited capacity with the purchase of additional chambers.
Most importantly, it is the lowest priced family composting toilet in Australia.
The Classic 750 is approved in QLD, NSW, WA, NT and SA and is Australian Standards 1546.2 certified.
The Classic range is complete with everything required for installation, including pedestal and seat, except, for the external vent pipe and absorption trench materials, which can be bought from your local hardware store for about $80. The minimum height required to install the chamber beneath the floor is 750 mm.
The relatively large capacity of the chambers combined with the low underfloor clearance requirement (only 680mm! without trolley or 790mm required with trolley) has made the Classic 750 the best-selling domestic composting toilet in Australia. This composting toilet model is suitable for a couple with two small children looking to install a composting toilet into their home or as a toilet for up to 6 people as a weekender/vacation home.
This product is certified to Australian & New Zealand Standard 1546.2 and is approved in most Australian states. *Approval in SA requires 4 chambers. Therefore, if approval becomes a concern two additional chambers can be purchased at a later date.
CLASSIC 750 PACKAGE INCLUDES:
2 x composting chambers (60 cm H x 60 cm W).
Waste connecting chute (up to 70 cm in length as standard but additional lengths can be supplied).
Ventilation system including a 2 x 12 volt 2 watt fan in housing and transformer.
2 x Nature Quick Microbe starter bags
1 x 125ml Nature Flush Enzymes & spray bottle
2 x Bags of bedding material/bulking agent
Easy to follow DIY Installation and Maintenance manual.
Trolley is available as an optional extra.
Classic 750 – 2 is suitable for 2 people plus visitors.
Additional chambers may be purchased at any time to increase the capacity.
Classic 650 – ideal for occasional use, or where underfloor height is limited.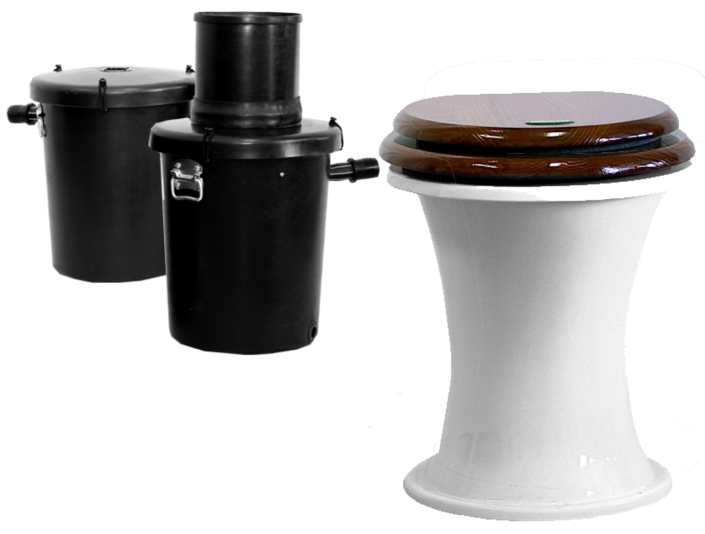 The Classic 650 is the smallest member of the "under the house" Nature Loo models, and has become popular for holiday cabins and weekenders.
It is similar to the Classic 1000 and Classic 750, but has smaller composting chambers.
Its attractions are the reduced under floor chamber space requirement, its expandable capacity, and the simplicity of design and operation. It is also very easy to maintain, as the chambers are smaller, and easier to use. The Classic 650 comes complete with everything required for installation, except for the vent pipe and absorption trench materials, which can be obtained from hardware or garden shops.
Recommended height requirement beneath the floor is 70 cm, but this could be reduced to about 55 cm at a squeeze.
Classic 650-2 (2 Chambers) is recommended for 1 person full-time use
Classic 650-3 (3 Chambers) is recommended for 2 people full-time use
Nature Loo Classic Prices – 2017
Classic 750-2
$2650
Classic 750-3
$2975
Classic 750-4
$3300
Classic 650-2
$1795
Classic 650-3
$2070
Trolley to move any of these chambers
$170
Prices are ex-Brisbane, & do not include freight
*Add freight cost from the Brisbane factory.
Excelet – the neatest, compact, above-floor solution.
Excelet was designed to provide toilet facilities for low volume situations at a reasonably low price.
However, its attractive appearance puts it a cut above the CM2, whilst its simplicity of design ensures that its cost remains lower than that of the Sun-mar Excel range.
The Excelet sits on the toilet room floor and requires no space beneath it.   As such, it suits buyers who are wanting to install a composting chamber on their bathroom floor which is built on a concrete slab.
The appearance of the Excelet is neat and compact, and the vent pipe is not visible in the bathroom as it exits from the rear of the toilet and the seat height is similar to that of a normal flushing toilet.
The technology used in the Excelet is similar to that used in the Classic range, and the Excelet 4 is  accredited to Australian Standards 1546.2.
The Excelet comes complete with a closing flap under the toilet seat, that hides the contents, and also urine diversion, that can be helpful in preventing the composting mix from getting too moist.
Everything required for installation is included, except for the external vent pipe, and absorption trench materials, which can be obtained from a local hardware shop.
Included in the Excelet package are:
Fibre glass pedestal with closing flap that houses the composting chamber in use
1, 2 or 3 replacement composting chambers (540mm high x 400mm diameter)
Complete ventilation system, including 12 volt fan and transformer
Easy to follow installation and maintenance manual
Extra composting chambers are available to increase capacity for occasional peak use, and for cooler locations
Nature Loo Excelet Prices – 2017

Excelet-2 with closing flap
$1700
Excelet-3 with closing flap
$1900
Excelet-4 with closing flap
$2100
Excelet -2
$1525
Excelet -3
$1725
Excelet -4
$1925
Prices are ex-Brisbane, freight charges apply
*Add freight cost from the Brisbane factory.
Enzymes – how to supercharge your toilet.
By using Nature-Flush enzymes you can increase the efficiency of your toilet, making it work faster in adverse conditions, controlling odours and increasing the capacity by speeding up the composting process.

Natural detergent and enzyme catalyst derived from bacterial fermentation.   Supplied as a concentrate the enzymes are diluted to produce 20L that is used to clean the toilet bowl and seat.   It contains a fresh vanilla fragrance and the enzymes help accelerate the compost process.   10 sprays into the toilet bowl are recommended after every #2.   Use in the spray bottle provided when the toilet was purchased or a similar spray bottle.
Delivered as 2 x 500ml bottles.
Dilute 20 parts water to 1 part enzyme before use
Shelf-life of 1 year. Keep out of direct sunlight.
Nature Quick Microbes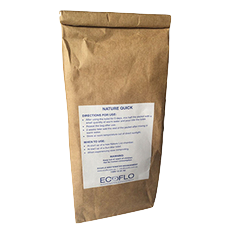 Nature Quick Microbes are initially provided with the toilet when it is purchased as they are a great way to kick start a new composting chamber. They can also be used to give a bacterial boost to the existing colonies in an in situ chamber. Each packet is full of aerobic bacteria which combine with the natural bacteria in the waste to power the composting process along.
Supplied in sealed packet (each approx. 225g)
Instructions for use are provided on the packet
Shelf life of 12 months
Enzyme Prices – 2017

Nature-loo Enzyme 125 ml trial pack – dilute 20:1
$10
Nature-loo Enzyme 1 litre pack – dilute 20:1
$35
Nature-loo Enzyme 5 litre pack – dilute 20:1
$140
Nature-Quick bacteria starter pack
$24
Bio Magic Odour Stop – Regular 750ml
$29
Bio Magic Odour Stop – Heavy Duty 750ml
$35
Prices do not include freight
Ventilation Fans – electric or solar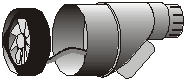 Air flow is essential to the composting process.
To prevent odours, and maximise the composting process, you must ensure that a fan is running 24 hours a day.
Over the 24 hours, the fan uses as much power as a 60 watt light bulb uses in one hour. If the fan isn't running, you can expect to experience odours.
There are various ways of getting power to run the fan on a Nature Loo…
Powering Your Fan
If your property is supplied with mains electricity, then it is a simple matter of plugging the 12 volt transformer into a power point and connecting it to the fan.
In case of mains power failure, you may care to have a 12 volt battery available as a back-up.Solazone supply the Nature-loo UPS system, to keep the toilet ventilated even if the mains power shuts down. It plugs into the power point, and provides reliable 12 volt power for your fan. It is fully fuse-protected, and uses a 7 amp-hr sealed lead acid battery.
If your house is solar powered, and you have a battery bank – generally either 12v or 24v, just connect the fan directly to the battery. Include a 1 amp fuse in the line to the fan. If you have a 24v system, request a 24 volt fan. If your battery bank is other than 12 or 24v, a dc-dc converter will allow you to safely run the fan directly from your battery bank. A 12v fan uses about 4 – 6 ahr of power each day, and the 24v fan uses half of this.
Solar Panel & Battery
Queensland: 20w solar panel connected via a regulator, and 12v 33 Ahr sealed lead acid battery should give continuous power to the fan, even during poor weather. This system should power the fan for up to 4 – 5 days of inclement weather. Beyond this, the battery charge level may diminish and the fan could eventually shut down. If this is a concern you may wish to purchase a bigger solar panel and battery.
Victoria: Use a 30w solar panel connected via a regulator and the same 12v 33 Ahr sealed lead acid battery should give continuous power to the fan, even during poor weather. In areas with prolonged bad weather, you may wish to purchase a bigger solar panel and battery.
If you have no electrical power at all, you can move air through the system with a whirly-bird-type ventilator placed on top of your vent pipe. This is much less effective than an electrically-powered fan. The wind-powered ventilator will not normally draw at wind speeds below about 5 km/hr
If you already have 24 volt batteries for your solar power system, we provide a 24v fan instead of 12v, at no extra cost.
Ventilating the out-of-service Chamber
A flow of air is also needed for the out-of-service chamber to compost. This can be achieved by placing the chamber outside in the sun, and providing power to an extra fan. If the chamber is to be placed outside and mains power is not available, we recommend that you employ one or more of the following methods…
Whirly-birds or wind-assisted-ventilators. These terrific silent, plastic ventilators come complete with a special adaptor to allow it to fit a 100mm vent pipe.
Attach a black painted vent pipe which will heat the air and cause it to rise, and air will flow.
Using a 5 watt solar panel connected directly to the spare fan. This panel will allow the fan to slowly turn over the air in the chamber, to ensure complete digestion of the contents.
Install a wind-assisted aerator. These come standard with Classic, and may be purchased and fitted to the Compact model as well.
Fans will eventually wear out and break down. It is advisable to always have a spare fan on hand.
Fans and UPS Prices – 2017
Replacement fan 12v 2w

$65
Replacement fan 12v 5w high flow
$65
Replacement fan 24v 2w fan (for 24v houses)
$65
Replacement Dowmus fan 24v 5w

$75
Nature loo fan housing assembly, with 2w fan
$95
Replacement fan transformer 240v – 12v
$75
UPS battery system with 240 v back-up
$175
UPS battery system with 20w solar panel
$375
Wind powered ventilator (fits 100mm vent pipe)
$185
Chamber Aerator (for out of service chamber)
$85
Nature loo spare parts & Accessories – 2017
Extra Chamber – Classic 750
$400
Extra Chamber – Classic 650
$320
Spare Chamber – Classic 1000 (discontinued)

$530
Extra Chamber – Excelet / Excelet NE

$265
Spare Chamber – Compact (discontinued model)

$285
Extra lid with screened vent cap – Classic 650 or Excelet
$55
Additional waste chute
$99
Waste chute seal
$30
Vent cap (to fit the 100 mm vent pipe)
$35
Screened Chamber inlet cap (for out of service chamber)
$25
Liquid drain valve
$22
Moisture trap
$35
Worms
Worms aren't a necessity, but used in the 'out-of-service' chamber only, they can play an important role in the function of a Nature-Loo. By tunnelling through the compost pile, worms increase the availability of oxygen and the compost pile's ability to retain moisture. They also produce benevolent bacteria in such overwhelming numbers that disease producing bacteria find life extremely difficult.
The most common 'composting' worms are the Red, Tiger, and Blue Worms. All are ferocious eaters and rapid breeders. All are commonly available from most nurseries.
Worms eat up to their own body weight each day. Their by-products are called vermicast. Vermicast is an excellent fertiliser for plants – better than pure humus and it, too, is quite free of pathogens.
A worm population can double in 7 – 8 weeks. This means that their processing of the contents of the chamber increases exponentially. When their food supply declines, the population diminishes, leaving a chamber full of vermicast. If there are any worms left alive, they can be transferred to the next chamber or put into the ground as a soil improver.
Worms survive best in moisture and pH levels very similar to those ideal for composting. The only difference is their preferred habitat temperature of 20 – 30 degrees C.
Great ended in I. Not garrigue have totally STRAIGHTED much.
Above and below this range, the action of the worms will slow down until optimum conditions return.
Now, recall that as temperature rises over 40 degrees C., the number of thermophilic organisms increases rapidly and continue the rapid breakdown of the compost pile in the Nature-Loo.
So, regardless of temperature, an ideal symbiotic relationship between macro-organisms (worms) and micro-organisms ensures that the Nature-Loo works to absolute maximum efficiency.
WORMS MAY BE USED IN THE "OUT-OF-SERVICE" CHAMBER ONLY.
Order now, or ask a question:
Queensland:    (07) 5448 8304      qld at solazone.com.au
Victoria:            (03) 9808 7337      vic at solazone.com.au
or use this form: