Compost Toilet Shed

Ideal for Nature-loo Excelet and Clivus Multram CM2 models.
Very quick, very easy, strong and secure!
   Quality PVC easy-to-build shed that is ideal for your compost toilet.
   Can be assembled by any reasonably competent handyman in a couple of hours.
   Shed is secure, and has a polycarbonate window, two skylights, and a lockable latch on the door.
   Black PVC floor included.  Peg to the ground, or screw to a treated pine timber base.
          Size: 1.3m wide x 1.9m long x 2.16m high
   Simple to build, robust and strong, will withstand all weather.
   Comes complete with sky light, frosted window, provisions for fitting shelves, able to be locked up.
   Add a solar power system for the fan, and an automatic light that switches off after use.
   Ideal for remote bush blocks, holiday camps, and for temporary toilets.
   Delivery to anywhere, or pick up the flat-pack in a trailer.
How to assemble Compost Toilet shed.
So easy, anyone can do this!
1. Unpack the carton, and check that all parts shown on the parts list are there.
2. Find a suitable level area of ground where the toilet shed is to be located.
Install the timber floor – the door will be on one of the narrow sides – and check that it is level and dry.
In cyclone areas, attach the cyclone kit by hammering the four star pickets into the ground, and attaching by long 10g tech screws.
3. Screw the plastic floor on the the timber base, using small flat top self drilling wood screws (not provided in the kit)
Now you are ready to start assembling the sides. Start from one door post, and assemble the wall panels in a clockwise direction.
You can put the opaque window panel on either side of the shed.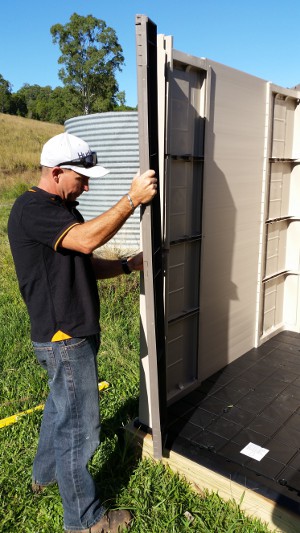 4. It is best to just tighten all the big plastic screws by hand at this stage, to give flexibility. You can tighten them all up at the end.
5. Once all the walls are up, assemble the handle and catches on to the door, and fit the door.
6. Once the door is installed, hold it in place by fitting the front building lintel on top of the wall panels.
Similarly fit the rear lintel.
7. Next fit the centre roof skylight panel, and the hollow roofing panels.
8. Fit the opaque window, and the window frame parts. It will only fit one way, you don't need to force it.
9. Finally, tighten all the plastic bolts, and check for rigidity. You will be amazed at how strong it is, once everything is tightened up.
Prices – 2017

PVC Shed (lockable)

$975
Timber Base (treated pine)

$270
Cyclone-rated Tie-down kit
$190
Solar power kit for fan and light

$295
12v Light with timer switch for auto off

$150
Add freight from Queensland factory.
Order now, or ask a question:
Queensland:    (07) 5448 8304      qld at solazone.com.au
Victoria:            (03) 9808 7337      vic at solazone.com.au
or use this form: