SMA Inverters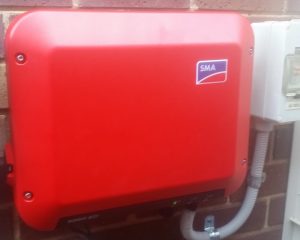 SunnyBoy 1.5 / 2.5 inverters

The completely redesigned Sunny Boy 1.5/2.5 is the perfect inverter for customers who want to take full advantage of their small PV system. Among other features, it enables an increase in consumption of self-generated power, allows versatile uses, and is very easy to integrate into the home network. In addition, its innovative design and new communication concept offer many advantages during installation and commissioning.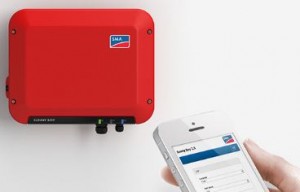 Thanks to direct communication with the SMA Energy Meter, both limitation to 70 percent, which is required in Germany, and limitation to 0 percent is possible.
Specifications and Datasheet SB 1.5 & 2.5 inverters
SunnyBoy 3.0, 4.0 & 5.0 inverters
The new Sunny Boy 3.0 – 5.0 succeeds the world's most installed residential string inverter, the Sunny Boy 3000 – 5000TL. It is more than just a PV inverter:
For the first time the new Sunny Boy 3.0 – 5.0 solution comes with SMA Smart Connected that offers PV system owners and installers true comfort and ease. The automatic inverter monitoring by SMA analyzes operation, reports irregularities and minimizes downtime.
SMALL, LIGHT AND FUTURE-PROOF
In 3 kW to 5 kW power classes, the Sunny Boy is ideally suited to solar power generation in private homes.
Thanks to its extremely light design and the modern user interface, the device can be easily and quickly installed. Current communication standards make the inverter future-proof, meaning SMA storage solutions and SMA Smart Home can be added at any time.
Secure plug-and-play installation without opening the inverter
High system design flexibility: suitable for more module types and complicated rooftops
Compact and lightweight design (< 16 kg)
Integrated webserver for easy commissioning and local monitoring
SunnyBoy SB3000TL-21, SB4000TL-21 & SB5000TL-21
Were Australia's most popular higher end PV inverters for residential systems.   
Some replacement units available, very limited stock.
The Sunny Boy SB3000TL-21 inverter is universally applicable thanks to integrated grid management functions. This new model also includes Reactive Power Control.
The SMA SB3000TL-21 inverter is the ideal solution particularly for demanding PV arrays and partially shaded plants: As multi-string devices, the new transformerless Sunny Boy SB3000TL-21 model offers maximum planning and installation flexibility. The high DC voltage of 750 V proves to be a cost advantage, since fewer parallel strings are required. In addition, the integrated grid management functions make the devices suitable for universal applications and allow them to actively support the grid. The SMA SB3000TL-21 also incorporates a new wall mounting system further facilitates installation.
Economical
Maximum efficiency of 97 %
Multi-string technology
Cost savings due to fewer parallel strings
Shade management with OptiTrac Global Peak
Flexible
Maximum DC input voltage of 750 V
Integrated grid management functions thanks to reactive power supply
Simple
Without fan
Simplified wall mounting
SUNCLIX DC plug-in system
Quick connection without tools
Informative
Simple country configuration
Bluetooth technology as standard
Multi-function relay included
Features
SMA Factory Warranty: Minimum 5 years
SMA Warranty Extension up to 25 years
Bluetooth: yes
Display: Graphic
Dimensions (W / H / D): 490 / 519 / 185 mm
See the Sunny Boy battery storage options here:
SMA Sunny Tripower Three-phase 5kw – 25kw inverters 
Ideal for industrial and commercial installations: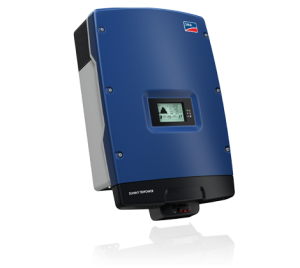 …but also perfectly suited to the design of the traditional residential PV system up to the higher power outage range. After all, with the addition of the new 10 kVA and 12 kVA versions to the portfolio, the Sunny Tripower product range covers a broad spectrum of applications. Users benefit from numerous tried-and-tested product features. Highly flexible with its proven Optiflex technology and asymmetrical multistring, it delivers maximum yields with a top efficiency rating and OptiTrac Global Peak. In addition to SMA and Sunspec Modbus communication, it also comes standard with a direct Sunny Portal connection via SMA Webconnect. Other standard features include integrated grid management functions, reactive power supply and suitability for operation with a 30 mA RCD. In summary, when it comes to system design in the 5 kW to 12 kW power classes, the Sunny Tripower is the optimum product solution – for applications ranging from use in your own home and larger PV rooftop systems to implementation of smaller-scale PV farms.
SMA Sunny Webbox (RS485)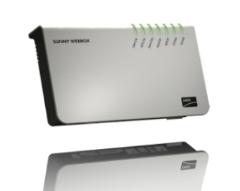 The SMA Sunny RS485 Webbox is ideal monitoring solution for medium sized and large PV plants. The Sunny WebBox receives and stores data from the inverter via RS485, allowing you to remain constantly informed of your plant performance. In the event of a problem, you can react quickly and secure your yields.
As a multifunctional data logger, it offers you a wide range of possibilities for displaying, archiving and further processing your system data via Sunny Matrix, Flashview or Sunny Portal. Regardless of your location, all you need to access the Sunny WebBox data is a PC with an internet connection.
FEATURES:
Reliable
Automatic monitoring of up to 50 inverters
Remote monitoring, diagnosis and configuration of the pv plant
Rapid detection of operation failures
User friendly
Quick set up thanks to the Sunny WebBox Assistant and quick reference guide
Free Sunny Portal access
Includes free standard access to Sunny Portal for the entire service life of the plant
Flexible display, evaluation, yield and event reports via Sunny Portal
SMA Sunny Home Manager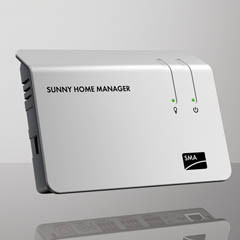 The SMA Sunny Home Manager is the control centre for smart energy management and monitoring. Coupled with the SMA Energy Meter,  the SMA Home Manager is the intelligent monitoring and control behind solar power generation, battery storage and electricity fed from the main network. With standard access to the Sunny Portal. The Sunny Home Manager is the ideal solution for simple plant monitoring and intelligent energy management. The SMA Sunny Home Manager provides an overview of all energy flows within in a household or workplace, and combines this information with a forecast of the plant-specific PV generation. The result is, the Sunny Home Manger allows a higher self-consumption ratio and a highly efficient use of energy from the environmental point of view.
SMA Sunny Home Manager at a glance
Consumption analysis for individual loads
Management of home energy consumption remotely
Regional weather forecasting
Recommended actions displayed
Convenient commissioning with the plant setup assistant
Overview of all energy flows in the home/workplace
Convenient plant monitoring via Sunny Portal
Visual displays of weather and PV yield forecasts
A key component in the SMA Smart Home solution benefits.
SMA Sunny View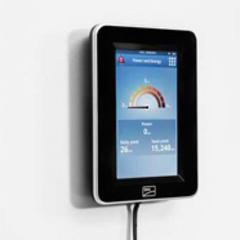 The SMA Sunny View provides you with an overview of all of your plant data live and in colour. Solar system owners can use the large, easy-to-read five-inch colour touchscreen to display all key PV data at home, as well as to receive news, meteorological data, and posts from social networks such as facebook via WLAN.
Communicative
The SMA Sunny View provides freely configurable slideshow of important data from your solar system. The information generated includes power generation, current meteorological data or information on CO2 avoidance.
User-Friendly
Operation of the SMA Sunny View is intuitive via the large easy-to-read five-inch colour touchscreen. That means that both slideshow configuration and retrieving desired data is possible with just a few clicks. The self-explanatory navigation and clear presentation leave no questions unanswered.
Secure
The SMA Sunny View does not just look good, it's also sitting pretty when security is required. It can communicate via Bluetooth with up to 12 inverters and can send a visual and acoustic warning signal in the event of a failure. Furthermore, data archiving and backup take place via microSD card. Included below are the links to download the SMA Sunny View installation guide and data sheet.
Fast delivery and good prices: