Selectronic SP PRO inverter
Selectronic Australia is one of the largest off grid inverter manufacturers worldwide.   Founded in 1964, Selectronic has always been an innovator in the field of power inverters and renewable energies.   Selectronic products guarantee a cutting-edge basis for efficient and cost effective solar PV systems.
| | |
| --- | --- |
| Model | Rated Output power |
| SPMC 240 | 24 volt 3 kw  |
| SPMC 241 | 24 volt 4.5 kw  |
| SPMC 481 | 48 volt 5 kw |
| SPMC 482 | 48 volt 7.5 kw |
| SPMC 1201 | 120 volt 7.5 kw |
| SPLC 1200 | 120 volt 15 kw |
| SPLC 1202 | 120 volt 20 kw |
Every model gives you the following features: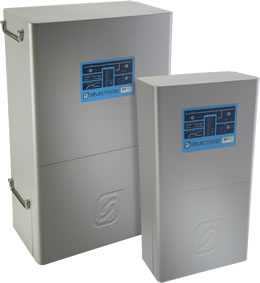 * Low distortion sine wave Interactive Inverter Charger with grid feed ability
* Advanced thermal techniques provide excellent high temperature performance
* 63 amp AC transfer switch with anti-chatter protection
* Grid feeds with excess renewable energy
* "Grid Lockout" setting can allow battery charging "Off Peak"
* Automatic changeover when grid fails without using a second inverter
* World leading 300% surge capacity
* True 100% charge capacity Five stage battery charging with dual float points and adjustable temperature compensation
* Battery mid point monitoring with automatic equalisation
* Simple LED display, with the AC LEDs directly powered from the monitored voltage
* Redundant safety disconnect for pluggable operation
* Plug and play or fully configurable via computer
* Eighteen months of logged daily totals
* Four months of sampled data at 30 minute sample rate
* Adjustable 30/15/10/5/1 minute sample rate
* Easy to use configuration / monitoring software supplied standard
* "Partial state of charge" control can minimise generator run time
* Superbly quiet
* All PCBs conformal coated with mil spec silicone
* 4 x addressable relay outputs and 3 x digital outputs
* 4 x addressable digital inputs and 2 x analogue inputs
* 2 x user definable shunt inputs
* Low battery shutdown override in case of emergency
* Discretionary load control
* External solar regulator bypass function
* 2 x serial ports with power for accessories
* Variable speed fan with service alert
* Lifetime monitored capacitors with service alert
* Warranty – up to 10 years
* 100% Australian designed and manufactured
* Field serviceable modular design
Great Sine Wave Inverters for Off Grid and Grid Back-up Use.
Selectronic sine wave power inverters give you quiet, clean, efficient power anywhere, any time.
All Selectronic SP PRO inverters are suitable for single phase, split phase and three phase power, for houses, businesses, commercial use, construction sites, or in fact any place where you want better-than-mains-quality, reliable power.
All Selectronic inverters are proudly Australian designed and built.   Service and back-up is local, and second to none.
Inverter Chargers optimised for Minimising Generator Use.
Selectronic SP PRO Interactive Inverter Chargers use the battery bank to store excess energy from renewable sources (normally PV solar) for periods when power demand is low. When the power demand is too high for the inverter alone,
or when the battery bank requires recharging, the inverter automatically starts a generator. This unique range of inverter chargers allow sharing of the load between the inverter and the generator set to maximise power output capacity. The SP PRO Series inverters is the latest development of Interactive Inverter Chargers by Selectronic. By managing all the functions of an off-grid power system, the SP PRO inverter ensures the efficient supply of mains quality power to the customer's load as required. These functions include managing battery bank charge state, maximising renewable energy sources and operating the generator as required.
Sizes range from 3 kW to 20 kW for a single phase system, 6 kW to 40 kW for a split phase system and 9 kW to 60 kW for the SP PRO in a three phase configuration. Simple settings in the included SP LINK software enable the SP PRO to be configured for use in leisure and remote power systems. The SP PRO is suitable for residential, commercial and industrial applications. Designed from the ground up, the SP PRO features advanced thermal power management and super high speed digital signal processing; setting new standards for reliability, features, surge capability and power density.
SP PRO SERIES SPECIFICATIONS
SPMC 240
SPMC 241
SPMC 481
SPMC 482
SPMC 1201
SPLC 1201
Battery voltage
24 v
24 v
48 v
48 v
120 v
120 v
Continuous output power
3000 w
4500 a
5000 w
7500 w
7500 w
18000 w
Continuous charge current
125 a
188 a
104 a
156 a
63 a
125 a
Continuous grid export power
up to rated output
20 second output power

7,500 w
10,500 w
12,000 w
18,000 w
16,000 w
28,000 w
20 sec output current @ 40°C
28 a
40 a
47 a
70 a
70 a
110 a
1 minute output power @ 40°C
5,400 w
7,600 w
8,700 w
13,000 w
13,000 w
20,000 w
60 min output power @ 40°C
3,200 w
4,700 w
5,300 w
8,000 w
8,000 w
20,000 w
DC input voltage range
20 – 34 v
20 – 34 v
40 – 68 v
40 – 68 v
100 – 170 v
100 – 170 v
Add Reliable Battery Backup to existing Solar Inverters

This versatile grid feed inverter offers the ability to store energy in and use energy from a battery storage system. Whether you wish to install a new solar hybrid system or update your existing renewable energy system to Solar Hybrid, the SP PRO provides the solution.
Being compatible with most forms of renewable energy including DC and AC couple PV Solar, micro hydro and wind, the SP PRO can be incorporated into virtually any grid tie system.
Program it to maximise your Net Feed-In-Tariff
The SP PRO Solar Hybrid function allows the user to feed virtually all of their renewable energy back into the grid to maximise their net feed in tariff.
The SP PRO minimises the solar power consumed by the user by shifting the user's day time consumption to a time of low tariff.
Minimise your power bill by optimising the feed in Tariffs

An SP PRO solar hybrid system gives you back control of your electricity bill.  By appropriately balancing grid power with the available renewable energy and stored battery energy, the SP PRO minimises your electricity bill.   With an SP PRO solar hybrid system you decide how much you pay for your power, not the utility.
Reliable Backup Power giving you Security and Peace of Mind.

During a power outage, the SP PRO solar hybrid systems will supply the load from the renewable energy source whilst storing any excess energy in the battery bank to be used as needed. This gives the user continuous power and peace of mind.
Managed AC Coupling – the advanced solar method.

Combine the SP PRO inverter with Fronius or ABB inverters in a Selectronic AC coupling configuration, for a fully integrated and managed Solar Hybrid system.
System sizes from 3kW to 20kW single phase (with up to 30kW of PV solar), 6kW to 40kW split phase (with up to 60kW of PV solar) and 9kW to 60kW three phase (with up to 90kW of PV solar) the SP PRO Series of inverters is suitable for use in On Grid power systems for residential, commercial and industrial applications.
By connecting up to 5 Fronius or ABB Grid Tie inverters to the AC Load side (output) of any single phase SP PRO system, it is now possible to utilise efficient high voltage PV arrays that are located remotely from the battery bank.
This allows you to continue to use a wide choice of PV installers and common components; no need to be concerned about cable loss in long, expensive low voltage cable runs.
By creating an AC Bus, an AC Coupled system will allow PV energy to be efficiently used directly by the load with excess PV energy going back through the bi-directional SP PRO to charge batteries or export to the grid.
PV energy will continue to be utilised at all times, regardless of generator or grid availability.
The battery charging system in the SP PRO has proven unmatched in control and stability.   This has now been extended into PV based AC Coupled systems.
The SP PRO RS485 link provides the same precise control over the AC Coupled PV.    Regardless of the charging source, your batteries will enjoy maximum life with SP PRO charging
Selectronic-Certified Grid Tie inverters   (Perfectly controlled by the Sp Pro inverter)
ABB

Model


AC Output

No of MPPTs

MPPT range

PVI-3.0-TL-OUTD-SCERT

3.0kW

2

160-530V DC

PVI-3.6-TL-OUTD-SCERT

3.6kW

2

120-530V DC

PVI-4.2-TL-OUTD-SCERT

4.2kW

2

140-530V DC

PVI-5000-TL-OUTD-SCERT

5.0kW

2

150-530V DC

PVI-6000-TL-OUTD-SCERT

6.0kW

2

180-530V DC


Fronius
Primo 3.0-1 WLAN-SCERT

3 kW

2

200 – 800 vDC

 4.5 kW peak
Primo 4.0-1 WLAN-SCERT

3 kW

2

210 – 800 vDC

 6.0 kW peak
Primo 5.0-1 WLAN-SCERT

4.6 kW

2

240 – 800 vDC

 7.5 kW peak
Primo 6.0-1 WLAN-SCERT

6 kW

2

240 – 800 vDC

 9.0 kW peak
Primo 8.2-1 WLAN-SCERT

8.2 kW

2

 270 – 800 vDC
 12.3 kW peak
Selectronic Sp Pro Grid Support inverters:

The Selectronic Certified Fronius Primos are available in power categories from 3.0 to 8.2 kW.
This single-phase device with its innovative SuperFlex Design provides maximum flexibility in system design, while the SnapINverter mounting system makes installation and maintenance easier than ever before.
Whether a Solar Hybrid system or fully off-grid, a Fronius Selectronic Certified inverter will integrate seamlessly with the SP PRO via Managed AC Coupling connectivity.
A simple plug and play connection to the SP PRO makes installation to a battery system very simple.
Selectronic Certified
10 year warranty
Install today, add batteries tomorrow
High efficiency
Easy to read LCD display
Transformerless
IP65 rating
Compliant to AS4777.2:2015
Boost performance and reliability with one smart inverter
When you need increased capacity, reliability or functionality of your electricity grid, the Selectronic SP PRO series of battery based Inverters will have the answers.
Boost customer supply capacity
In "fringe of grid" situations, a property may require more power than the grid can supply, but upgrading lines may not be practical or economical. In this situation an SP PRO is placed at the customer's premises with a battery bank. When the supply limit is exceeded additional energy will come from the SP PRO via the batteries, and when load is decreased grid energy will be used to charge batteries again if required. Renewable Energy sources can provide power to recharge the batteries, feed this into the grid or to be used onsite.
Boosting Grid supply capacity
Using an external controller, the SP PRO can be commanded to feed stored battery energy at any power factor into the grid, augmenting supply capacity. Commanding the SP PRO is a specialist feature made available under a signed agreement.
Peak lopping
An SP PRO strategically placed within a network can be programmed or commanded to cap the peak demand to a known limit, preventing line overload and the associated costs due to loss of supply. Use of this feature allows a fast and cost effective means of increasing network capacity, either temporarily or permanently. Consequently line utilisation is both predictable and controllable.
Load shedding
It is often required that a branch line will need to be isolated for safety, maintenance or load shed purposes.
Properties or sub divisions with SP PRO support will enjoy an uninterrupted power supply, thus demanding a lower priority response. This gives greater flexibility and efficiency to line restoration crews.
Quality of supply
Exposure to liability claims is a major concern in today's business world.
Quality of supply can be maintained regardless of line irregularities with the rapid detection and islanding capabilities of the SP PRO.
Smart Grid
Future developments will see the SP PRO integrate within the AMI infrastructure via industry standard protocols. With so much flexibility within the SP PRO and incorporated into a Smart Grid, the possibilities of control and integration into smart storage systems are numerous. Adding Renewable or Alternate Energy sources A line supported by an SP PRO can easily be further augmented with the inclusion of any type of Renewable or alternate energy source. Solar panels can be integrated via the DC or AC coupling method.
Balance of system
Selectronic can take the worry out of system integration by providing you with all of the components required for a system. Most batteries are compatible with an SP PRO and our pre sales design service will ensure your system achieves all of its objectives. The Australian-made consultative advantage With our design and development team based in Melbourne Australia, our Sales engineering team will work with you from project beginning to end, engineering the most cost effective and technically appropriate solution to your needs. As a medium sized company our ability to provide fast response time is unique in our industry.
SP PRO + LG Chem RESU = outstanding storage
Any SP PRO Series II can have a new 2017 Comms Card added to work with single phase LG Chem RESU batteries. These cards are now available.
The LG Chem RESU/Selectronic pairing will provide customers with a quality solution to not only reduce their electricity spend, but will also provide a steady flow of power during grid outages.
"We're excited to now be compatible with the leading Australian inverter manufacturer," said Jamie Allen, Business Manager, Australia and Pacific, at LG Chem. "Selectronic has over 35 years of providing Australian-made energy storage solutions for both on- and off-grid applications. It's an exciting prospect to see the two companies come together to provide such flexible solutions."
The integration of LG Chem's RESU series with Selectronic's world-class inverter has gone through significant testing by both companies to ensure the best solution. There are more than 30 field test sites around Australia enjoying the benefits of this rock-solid combination.

"Over the years, we've seen a lot of lithium solutions come and go," said Rod Scott, CEO at Selectronic. "We've been in the industry for a long time, and are careful to put out the right solutions and partner with the right companies. Working with LG Chem was a good opportunity and a great fit for Selectronic".

With factory trained technicians available and the support of the Selectronic dealer network, you are assured of a high quality experience when purchasing a Grid connect system using a Selectronic Sp Pro inverter charger.


Order now, or ask a question:
Queensland:    (07) 5448 8304      qld at solazone.com.au
Victoria:            (03) 9808 7337      vic at solazone.com.au
or use this form: