Trojan Batteries
Trojan batteries (Made in USA) are good quality batteries with good deep cycling ability.
They are an excellent choice for smaller solar power systems, and we have installations where these batteries are still working 12 years later.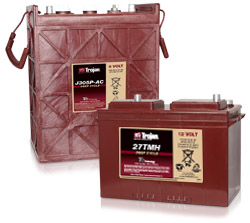 The Signature Line of deep-cycle flooded batteries is the flagship of Trojan's product portfolio. Engineered to provide rugged durability and outstanding performance, Trojan's Signature Line is perfectly suited for use in renewable energy systems where lowest life-cycle cost is the key consideration. An all around power house, the Signature Line features Trojan's historically-proven engineering with T2 Technology, an advanced battery technology for maximum sustained performance, longer life and increased total energy.
---
1 – Trojan Grid Technology 
Trojan's grid technology is a lead antimony alloy grid mixture formulated for use with Trojan's Alpha Plus® Paste with T2 Technology™. The grid formulation provides exceptional structural adhesion between the Alpha Plus Paste and the grid frame. Thick grids reinforce the strength of the frame and reduce overall corrosion. The overall grid configuration is optimized to enhance current flow through the grid network providing exceptional battery performance, reducing downtime and lowering overall maintenance costs.
2 – Maxguard® T2 Separator
Available in Trojan's Signature Line of deep-cycle flooded batteries is our Maxguard® T2 advanced separator. Trojan's Maxguard T2 separator features a multi-rib geometry which keeps acid channels open longer enhancing electrochemical processing while reducing the risk of stratification. Maxguard's proprietary rubber-based material formulation inhibits antimony transfer between the positive grids and negative plates; a protection not available in many other competitor batteries. A fortified, thick back web provides even greater separator strength resulting in a more robust battery with increased protection against failures caused by separator degradation. Trojan's Maxguard T2 advanced separator sustains performance providing exceptionally longer battery life and significantly lowering your operating costs.
---
3 – Alpha Plus® Paste with T2 Technology™
Trojan's Alpha Plus Paste is a proprietary, high-density paste formulation precisely engineered to deliver outstanding battery performance. This high-density paste optimizes porosity development in the active material utilizing the active material more effectively resulting in sustained battery performance over a longer period of time. Trojan's T2 Technology features a patent-pending T2 metal agent which is incorporated into Trojan's Alpha Plus Paste further strengthening the electrochemical processing capabilities of Alpha Plus Paste. Together Alpha Plus Paste with T2 Technology increase both sustained capacity and total overall ampere-hours resulting in more operating power for your application. It's a key reason why Trojan batteries consistently outperform the competition.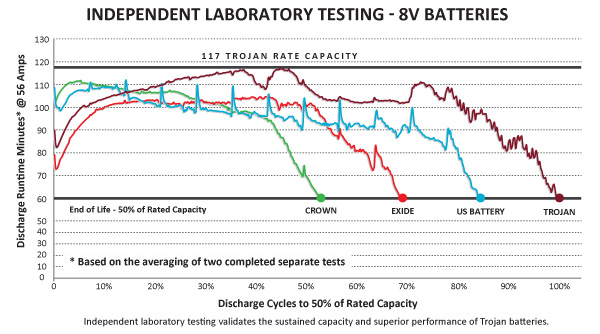 Designed for deep cycling applications, these batteries give long service where they are used and recharged daily.
With over 80 years of experience, USA based Trojan Battery Company is one of the world's leading manufacturers of deep cycle battery technology. Decades of experience, research and dedication have gone into creating a truly top quality range of deep cycle batteries.
 Specifications
TYPE
CAPACITY Ahr
VOLTAGE
DIMENSIONS mm
WEIGHT kg
20-Hr Rate
100-Hr Rate
Length
Width
Height
24TMX
85
94
12 volt
286
171
248
21
27TMX
105
117
12 volt
324
171
248
25
27TMH
115
128
12 volt
324
171
248
28
30XHS
130
144
12 volt
355
171
256
30
J150
150
166
12 volt
351
181
283
38
J185P-AC
205
226
12 volt
381
178
371
58
T-605
210
232
6 volt
264
181
276
28
J185H-AC
225
249
12 volt
381
178
371
58
T-105
225
250
6 volt
264
181
276
28
T-125
240
266
6 volt
264
181
276
30
T-145
260
287
6 volt
264
181
295
33
J305P-AC
330
367
6 volt
295
178
365
44
J305H-AC
360
400
6 volt
295
178
365
45
L16P
420
467
6 volt
295
178
424
52
L16H
435
483
6 volt
295
178
424
57
L16HG-AC*
435
483
6 volt
311
178
417
57
Need reliable replacement batteries, at a good price?   Put your details: