Woods battery chargers
The WOODS DIALOcharge is a sophisticated electronic, manually operated battery charger, suitable for most types of batteries.
We have been using these successfully in our solar power systems for over 30 years. They are robust, reliable and protective of the batteries.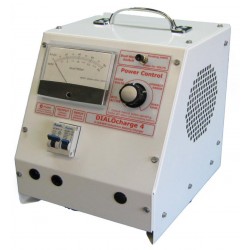 It employs a primary phase – shift controlled triac to precisely supply charging voltages and currents during the recharge cycle.
The DIALOcharge can successfully recover deeply discharged batteries. The DIALOcharge covers a variable range of battery voltages which provides great charging flexibility in the workshop. (eg: a 24V DIALOmatic can charge batteries of any voltage from single 2 volt cells to 24 volt battery banks)
Due to the precise power control provided by the DIALOcharge, it may be used for fast recharging of operational batteries, or for overnight slow trickle charge situations.
Voltage range from 2 to maximum without the need to display switches.
Provides a stepless current range.
Current is displayed by operator using dial on front of charger.
This unit is not automatic and charging needs to be terminated by operator.
Heavy duty components.
Dualmeter reads amps and volts.
Input switch breaker and output fuse provide total electrical protection.
Compact and portable
Battery Charger Power
240 volt ac mains or generator supply – While the mains input is predetermined for Australian conditions with a mild variance in the supply volts & hertz, remote use is available via generated power with an acceptable level THD% tolerance. Also available in 110Vac by order.
Available in 12, 24, 30, 36 and 48 volt – A vast range of battery terminal voltages are available 12Vdc to beyond 48Vdc up to 144Vdc.
Available in 15A, 30A, 60A and 120Amp – The larger your battery system and loadings, the larger your charger
should be to quickly bring depleted batteries back into service.
Protection
Circuit breakers on input and output – Over current protection on both the mains input and the battery output is offered for immediate protection. The manual resettable swtich circuit type breakers are of industrial grade.
Temperature controlled fan cooling – The rectifier assembly is protected by an automatic thermoswitch. If the temperature rises above its preset level the fan will be enabled untill it has cooled the system to below its lower setting; thus disengaing the cooling fan. This extends the fans' operating life.
Rectifier over-temperature shutdown – The second temperature protection device is also on the rectifier assembly. If, due to severe loading or other fault, the temperature exceeds its level it will shut the battery charger down untill the cooling fan brings the temperature back within safe operating levels.
Transformer over-temperature shutdown – The third temperature protection device is deep within core of the power transformer. Activation of this device indicates serious overheating and will shutdown operation of the battery charger untill the cooling fan brings the temperature back within safe operating levels.
Battery Charger Control
Manual phase-shifted control – The primary control circuitry is manually controlled by the user. Employing heady-duty passive components provides seamless and precise power control from zero to maximum output.
Voltage Regulation and Current Limiting – Combined with the power control, the DIALOcharge incorporates electronic voltage regulation and current limiting for complete charging protection.
Batteries able to be charged
Wide range – due to the flexibility of the control hardware, nearly all large batteries flooded batteries can be recharged with a DIALOcharge, eg: Wet Lead-Acid, Deep Cycle Lead Acid, Lead-calcium, Wet Ni-Cad, Genesis®/Optima®, etc.
Battery Charger Display
Metering – An accurate electronically driven analog moving-coil meter is fitted as standard. The DualMeter display the charging current, but the battery volts may be displayed at the press of a button. They are large and easy-to-read with wide angle visibility.
Battery Charger Cabinet
Strong, durable, attractive – Powder-coated zinc-annealed steel cabinets.
Mountabilty – Pre-drilled mounting holes means the DIALOcharge may be mounted either on a bench or shelf by the base or on a wall or bulkhead by the back of the cabinet.
Portability – Due to the compactness of the cabinets, DIALOcharge units are portable if needed.
Compliance
Safety Standards – IEC33-2-29 (AS3350.2.29), IEC61558-1:1997 (AS/NZS61558.1:2000)
EMC Standads – EN55014 (CISPR14, AS1044), EN55022 (CISPR22, AS3548), EN50082-1
IP Rating – IP21
Model
Voltage
Output
Weight
Dimensions

Prices
May 2017
D1230
2 – 12 Volt
30 Amp
15 kg
330x300x370
$ 930
D1260
2 – 12 Volt
60 Amp
25 kg
330x300x370
$ 1425
D12120
2 – 12 Volt
120 Amp
40 kg
560x370x400
$ 2036
D2415
2 – 24 Volt
15 Amp
15 kg
330x300x370
$ 1099
D2430
2 – 24 Volt
30 Amp
25 kg
330x300x370
$ 1425
D2460
2 – 24 Volt
60 Amp
40 kg
560x370x400
$ 2036
D2490
2 – 24 Volt
90 amp
45 kg
400x270x300
$ 2681
D24120
2 – 24 Volt
120 Amp
50 kg
360x370x400
$ 3258
D3620
2 – 36 Volt
20 Amp
25 kg
330x300x370
$ 1221
D3640
2 – 36 Volt
40 Amp
40 kg
560x370x400
$ 2230
D3680
2 – 36 Volt
80 amp
60 kg
400x270x450
$ 2681
D4815
2 – 48 Volt
15 Amp
30 kg
560x370x400
$ 1425
D4830
2 – 48 Volt
30 Amp
40 kg
560x370x400
$ 2036
D4860
2 – 48 Volt
60 Amp
40 kg
560x370x400
$ 3054
D4890
2 – 48 Volt
90 amp
50 kg
560x370x400
$ 3868
D7220
2 – 72 Volt
20 Amp
50 kg
560x370x400
$ 2280
D7240
2 – 72 Volt
40 Amp
50 kg
560x370x400
$ 3258
D7260
2 – 72 Volt
60 amp
50 kg
560x370x400
$ 3461
D9615
2 – 96 Volt
15 Amp
50 kg
400x300x290
$ 1832
D9630
2 – 96 volt
30 amp
50 kg
560x370x400
$ 3461
Order now, or ask a question:
Queensland:    (07) 5448 8304      qld at solazone.com.au
Victoria:            (03) 9808 7337      vic at solazone.com.au
or use this form: