Household pressure pumps
Onga Jet JSM100: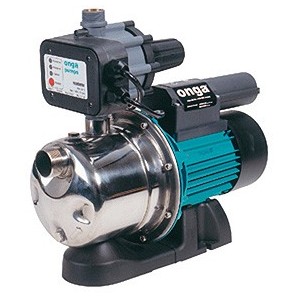 JSM100 Home pressure jet pump
240 volts – 39M head. 45L/min.
Up to 3 taps.
This is great performer with inverter systems because it has good performance, and doesn't draw too much power.
Fast free delivery Australia wide.
with 1 yr warranty.
Equipped with the mini-press, the JSM 100 offers strong, constant pressure for economical applications that require reliable constant pressure. Ideal for small households where economical, reliable and automatic constant pressure is desired. Great pressure for showers and appliances.
Max 36M head. Around 45 L/min. Up to 3 taps.
Price: $430
---
Onga JSK-110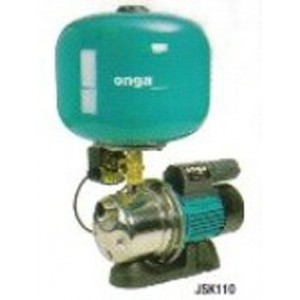 JSK110 Home pressure system
240 volts – Max head 38m.
Around 52 L/min.
Up tp 4 taps.
Fast free delivery Australia wide.
with 2 yr warranty.
JSK range of pressure systems includes includes, pump and tank combination to suit almost any home. Srong stainless steel pump casing with precision-moulded internals. Suction inlet set high on pump body to enhance self priming and air handling ability.
2 yr warranty. Max head 38m. Around 52 L/min. Up to 4 taps.
Price: $572
---
Shurflo Domestic Pressure Pumps
A complete low voltage dc pressure water system for homes, weekenders and cabins – for shower, toilet, kitchen and laundry applications.
Available in 12 volt and 24 volt DC verssions. Reliable diaphragm pump, up to 2 taps operating at the same time
Shurflo pumps are reliable diaphragm pumps, made in the USA, and typically pump small to medium volumes of water over a medium to large head range. They have been found to be excellent for water transfer, showers, household water pressure and irrigation purposes. The water MUST be clean and free from particles to protect the rubber diaphragm. The low power draw makes them an excellent choice for solar powered houses, and they are available in 12 & 24 volt versions.
System Model
Use
Volts
Amps
Max flow rate
lpm
Pressure
psi
Prices
jan 2012
Shurflo Deluxe
intermittent
12
6
13.2
20
$462
Shurflo Premium
continuous
12
6
13.5
20
$575
Shurflo Deluxe
intermittent
24
6
11.3
20
$475
Shurflo Twin head system
intermittent
12
6
26.5
20
$850
Shurflo service kit
incl replacement diaphragm
$48