Aerogen (LVM) Wind Generators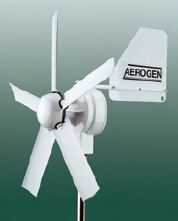 These excellent and reliable wind turbines are made in the UK by LVM.
They feature the latest technology, and the expertise and experience gained since 1982. The models below are "third generation", and are being used all over the world for yachts, research institutes, military forces, and for small power applications in remote areas.
Powerful Performance – Designed for all wind speeds
The optimum wind speed is between 5 and 20 knots. Aerogens are designed to operate efficiently in this range, starting to charge at 5 knots. Equally they take advantage of higher wind speeds to produce higher outputs continuously and safely.
Compact, light, robust and maintenance free
Aerogens are lighter and smaller than some units with similar or even lower performances. They are sturdy and robust, and incorporate heavy duty bearings, slip rings and brushes. Corrosion resistant marinised materials are used throughout.
Quiet, safe, low speed efficient propellors
LVM computer designed aerofoil section blades are used to maximise the generators output at comparatively low wind speeds therefore ensuring enhanced safety, comfort and bearing wear.
High efficiency brushless alternators
High efficiency hand wound 3 phase brushless alternators and neodymium iron boron permanent magnet rotor, sleeved and epoxy coated, mean Aerogen provide years of maintenance and trouble free use.
Easy Installation – Mounting Kits available
All Aerogens are available in 12 or 24 volt versions
Aerogen 4
Produces more power for the cruising yachtsman and static and mobile caravans.
Powerful design with thousands in use worldwide
Suitable for Cruising Yachtsmen as well as static and mobile caravans
Ideal on a 10M boat to provides power for engine and domestic batteries
High efficiency alternator
Robust and maintainance free
Starts charging 0.5A at 8 Knots, Maximum windspeed of 60 knots gives 20A
It can provide sufficient power for cruising yachts with significant electrical equipment – even refrigeration.
Safe in storms as it is self limiting. Mounting for 1″ or 1.5″ tube.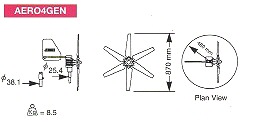 Aerogen 6
The powerful Aerogen is the ideal unit for live aboard yachtsmen, and for applications with high power usage.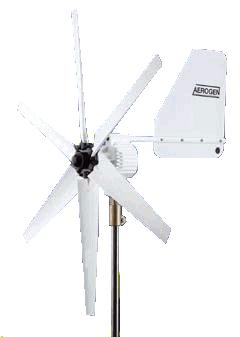 Ideal for the live aboard yachtsmen and applications with high consumption
Optimised to produce high outputs safely and continuously
High efficiency alternator
Robust and maintainance free
Starts charging 0.5A at 6.5 Knots, Maximum windspeed of 45 knots gives 30A
Should NOT be left unattended at windspeeds above 45 Knots
Starts charging 0.25 amps at 6.5 knots, produces 4 amps at 12 knots and 10 amps at 20 knots.
It is optimised to maintain continuous high outputs at higher wind speeds.
It operates safely and continuously in 45 knot winds, producing 30 amps (12 V) or 15 amps (24 V), but above that it requires some manual control, and therefore is not suitable for unattended applications.
Fan diameter 1220 mm Turning diameter 1300 mm Weight: 15.14 kg
Voltage regulators
Voltage regulators and diode units are available for single, twin and triple battery sets.
When the batteries reach full charge the power produced is diverted to a wire wound resistor and dissipated as heat, thus ensuring the wind generator is loaded at all times.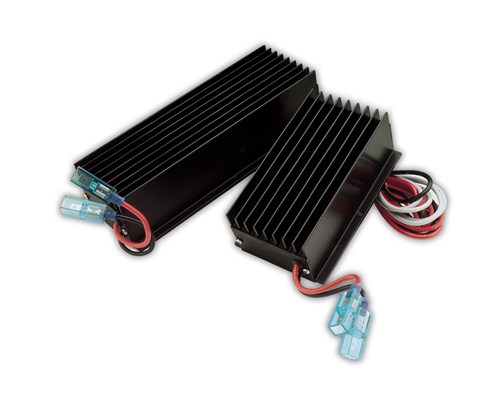 A twin battery regulator which will limit the output of the wind charger and prevent overcharging of two batteries or battery banks.
Can be used to charge three batteries in conjuction with 4DU diode unit
Compatible with TWC Adverc
Built in temperature compensation 25mV/degC
| | | | | |
| --- | --- | --- | --- | --- |
| Aerogen Model | Watts | Rated Output | Max output | Prices |
| Aerogen 4 – 12 v | 96 | 8 Amps | 15 Amps @ 40 knots | $2024 |
| Aerogen 4 – 24 v | 96 | 4 Amps | 7.5 Amps @ 40 knots | $2024 |
| Aerogen 6 – 12 v | 240 | 20 Amps | 30 Amps @ 45 knots | $2915 |
| Aerogen 6 – 24 v | 240 | 10 Amps | 15 Amps @ 45 knots | $3025 |
| | |
| --- | --- |
| Regulator (LVM4TB12) suites Aerogen 4 – 12 v | $484 |
| Regulator (LVM6TB12) suites Aerogen 6 – 12 v | $484 |
| Regulator (LVM6TB24) suites Aerogen 6 – 24 v | $500 |
| Spare Blades for Aerogen 2, 4 & 6 | $110 ea |
ORDER HERE – WE SHIP IMMEDIATELY TO ANYWHERE IN AUSTRALIA