Wood Stove Fan
Amazing heat-powered fan, that distributes heat right around the room.

Have you ever been in a room beside a glowing wood heater, and found yourself become more and more stuck to the space next to the heater?    As you toast away, you don't feel like doing much because it is cold over there, and here beside the heater is really toasty.
Well, you can fix that problem of uneven heat distribution with this cute little stove fan, that just sits on the top of the stove, at the back, and works all by itself!
Starting at 50 degrees C it will start to distribute heat right around the room.   Soon, every part of the room feels comfortably warm, and not just around the fire.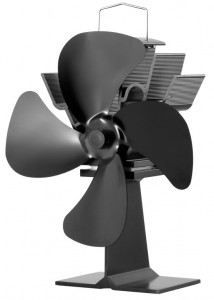 It works totally silently (<25dB), uses no power, and runs whenever the stove is hot.
As the stove warms up, the Wood Fire Stove Fan runs faster and faster, distributing the heat to the far corners of the room.   The great thing is, there are no dangerous leads, or cords to melt or burn.   And even at top speed, there is hardly a whisper.   It's almost totally silent.  (The stove fan makes less than 25 dB even going hard).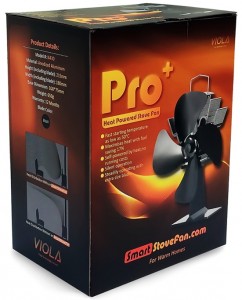 Showing the four black high-efficiency blades – this model shifts lots of air – up to 220 cfm.
And here it is – the secret of it's success.
A compact thermal – electric unit that generates the tiny power used to run the fan, from heat conducted up from the base.
How does it work?  No batteries, no plugs, just place it on the hot stove, and off it goes!
"I am surprised at the difference this little fan makes to cold corners of a room, that are distant from the wood heater".
Where can I order one?  Right here; fill out the form below.

Or call us at Solazone Victoria, in Melbourne.
(03) 98087337       email: vic@solazone.com.au
How much does it cost?   Introductory price – just $135

Yes.   Low introductory price is $135.
Warranty?     Full 12 months replacement warranty.
Send it back if anything found defective, for a brand new unit.
Guaranteed by an Australian-based company, for rapid processing of any claim.
(Warranty does not cover damage by the user, abuse, or the return postage.)
You can see it working in a video here:  https://www.facebook.com/woodstovefan
Order now, right here: