Solar in-ground Cooling system
This Solar powered In-ground cooling kit is used for drawing cooled air, cooled by passing through a network of buried polypipe tubes, into the house. It comes ready to install, complete with insect screens and easy to follow installation instructions.
It is a very effective way to keep the house cool and comfortable during hot weather.  Depending on the house size, one or more kits may be required to cool the area, similar to using a bigger aircon for cooling bigger spaces, or adverse building designs.  A single kit is suitable for cooling approximately 30 to 70 square meters of living space. depending on climate area.
Parts included in the kit are 2 x 300 mm Ventilator pipes, 2 x 650 mm Vertical connecting pipes, 1.5 m horizontal pipe, 90 degree bend, pipe coupling, filter to keep out insects, fan in metal tube, weatherproof cap for the inlet pipe, valve frames and screws, injection nozzle, Aluflex pipe, 25 mm plastic plugs and 125 m roll of 25 mm ribbed polypipe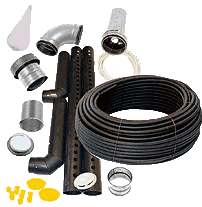 This cooling system will use the cooling effect of the lower ground temperature to reduce the temperature indoors. The In-Ground Cooling System enables you to cool your house or office by drawing fresh cooled air in through a series of pipes burried up to a metre undergroud.  Ideally the air intake should be in a cool, shaded area outside, and the pipes installed in slightly damp ground e.g. where a garden is watered, as the evaporation of any moisture helps the performance of the cooling sytem. The In-Ground cooling sytem has proved very effective in Australian conditions, not only helping you to keep cool, but also ensuring good ventilation throughout summer.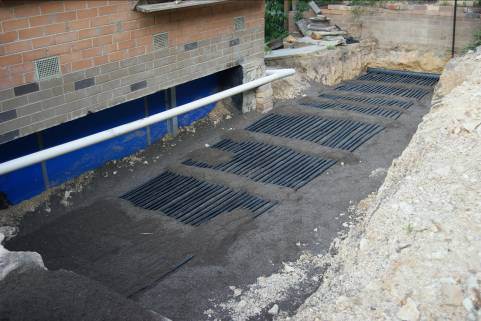 Every installation is different, however based on customer feedback – we have concluded that the average system on a hot 35 degrees day supplies about 21 degrees cool air into your home without any running cost or carbon emissions.
Click here for the installation Video
To enhance the flow of the air into the house you may add a solar powered Wall Air Extraction kit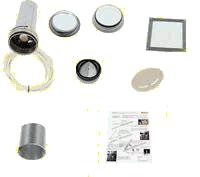 The Solar Wall Air Extraction kit is suitable for extracting heat, steam and smells from a room or living space. The quiet fan can run directly from the solar panel supplied, or from the solar panel via an optional switch or thermostat.
Parts included in the kit are 180 x 190 mm square grate, a 150 mm inlet connector, 250 mm Aluflex pipe, 250 mm steel ventilator pipe with fan, reverse damper, injector nozzle and installation instructions.
Can also be run from a SV30 SolarVenti regulator, or by using a separate 12 watt solar panel and switch.
Also available is the Solar powered Roof Air Extraction kit

The SolarVenti Roof Penetration kit is used for converting the wall extractor kit into a ceiling extractor and ventilating out through the roof space. It comes in two versions – suitable for metal or tiled roofs, and easily converts the Wall Extraction Kit into an effective ceiling air extraction system, removing the very hottest air fron the room, up near the ceiling..
Parts included in the kit are Metal weather cap and 160 mm chimney, Weatherproof roof seal 450 x 620 mm, 1250 mm Aluflex pipe, set of mounting screws and installation instructions.
Prices November 2013
| | |
| --- | --- |
| In-ground Cooling Kit for 30 – 70 sqm house area, without solar panel & frame. | $1395 |
| Solar panel & frame for In-ground Cooling Kit | $180 |
| Regulator with fan speed control & thermostat | $265 |
| Complete package (all 3 above) | $1840 |
| Solar Venti Wall Air Extractor (connects to SV30 regulator or use separate solar panel & switch) | $350 |
| Solar Venti Roof Air Extractor (connects to SV30 regulator or use separate solar panel & switch) | $650 |
| Independant Ceiling Air Extractor (includes solar panel, 125mm duct & regulator) | $1245 |
Prices include GST    Delivery from Melbourne is extra    Installation can be arranged.
ORDER NOW FOR FAST DELIVERY, AND WE WILL CONTACT YOU FOR SHIPPING DETAILS.